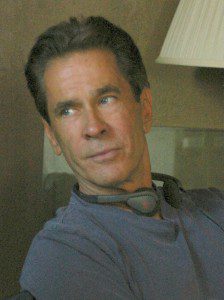 For Dan Ireland, directing The Whole Wide World is a dream come true. More than three decades after he first fell in love with film, Ireland is bringing his first feature, about the frustrated love life of Conan the Barbarian author Robert E. Howard, to Vancouver.
"I don't think Howard ever had a choice in his life of what he would be," says the 46-year-old Vancouver native, who says he felt a bond of sorts with Howard. "He was a writer. And I was a film enthusiast, I was a total film nut. And I didn't know where it would lead me."
The first film Ireland remembers seeing was Them!, the sci-fi flick about giant ants, which he saw at the age of five in a drive-in theatre with his parents. He got his first job at 14 as a doorman for the Vogue theatre. He eventually tried studying political science at UBC, but gave that up to embark on a career that saw him work at almost every theatre in town.
At the time, though, there was very little space for the more interesting, independently produced films that Ireland wanted to show. So, at 24, he moved to Seattle with his high school buddy Daryl McDonald to renovate the Moore Egyptian theatre, a building that dates back to 1907. "We sort of uncovered this jewel, and we did it by going around the city of Seattle and advertising for anybody that was a movie theatre fanatic to help us do this, and we promised them jobs when we opened. And we had 37 dressing rooms downstairs, and we gave them food and shelter." He laughs. "And jobs! It was like a whole little family for about six months, and it was scary, it was so unbelievable. It was great. When I look back at the most fun time of my life, it was putting that theatre together and getting it going."
After that, they founded the Seattle International Film Festival, which has gone on to become one of the strongest festivals of its kind in North America.
In 1986, it was time for another change. This time, Ireland left McDonald in charge of the festival to become an actual film producer with Vestron Pictures. "It was an opportunity to get closer to filmmaking. It was an opportunity to really grow and change, and one should always reinvent themself in ways that they want to. If you have a dream, it's never too late to realize it as long as you have breath and body."
The first film Ireland produced was John Huston's The Dead. That, he says, was one of the "pivotal" experiences that convinced him he wanted to direct. The other was Ken Russell's Whore, a disaster following which Ireland swore he would take a more hands-on approach.
Enter Ben Mouton, an actor on Whore who introduced Ireland to Michael Scott Myers and a script he had written about Novalyne Price, a former teacher of theirs who had had an on-again, off-again relationship with Robert E. Howard.
Ireland told Myers the script — 185 pages of sheer dialogue — would need some work if it was ever going to be anything but a radio play. But after some tense discussion, Myers and Ireland agreed to work together on changing it into a proper movie.
Their first choice to play Howard was Vincent D'Onofrio, who had played the overweight Private Pyle in Full Metal Jacket. D'Onofrio turned out to be so enthusiastic about the project, he came on board as a fellow producer, as well. And when the money people threatened to chop whole scenes out of the story to trim the already paltry $1.3 million budget, D'Onofrio used the script approval clause in his contract to veto the cuts.
"He was the guy that really cleared the path for me to direct," Ireland says. "He was amazing. He just kept putting in money out of his own pocket, so I could have the Greyhound bus at the end. He was gonna pay for an extra day, but I finished on time. I had the bond coming down my back, threatening me I'd never work again, and he'd pick up the phone between takes and do this intense scene — and he wouldn't tell me! He was great! He'd tell Donald Kushner, 'Donald, I don't feel too well today. I think I might be sick. Unless, perhaps, your people leave. Very shortly. Like, real shortly.' Working with an actor who is that resourceful is wonderful."
Ireland was also lucky to find the perfect leading lady in Renee Zellweger, an unknown with bit parts in indie far such as Dazed and Confused, when Olivia d'Abo turned out to be six months pregnant two weeks before shooting started. That last-minute change proved to be lucky for Zellweger as well, who landed a leading role opposite Tom Cruise in Jerry Maguire after playing Novalyne Price.
Being a top-notch Hollywood flick, Jerry Maguire made it through production and post-production fast enough to hit theatres a month ago, while Whole Wide World, as a low-budget indie, has trickled through the festival circuit, quietly biding its time. The difference in schedules works out quite well, since more people may be interested in Whole Wide World now that they've seen Zellweger. The intervening year has also given Ireland the chance to trim his film to a more manageable length, though he found it painful cutting out the subplot that dealt with Howard's racism.
"It's really amazing in this world of being PC, how people were really, really pissed off with his character during that scene. It doesn't bother me at all, I love that, but people really lost it for him. Robert E. Howard was really into purity of race at that point in his writing, but it changed later, probably because of Novalyne, and it broke my heart to take it out. It was their best work, it was fucking great. But it was 18 minutes that I would have to put in the film, and it just didn't work. I'm gonna try to put that back in, maybe on the laserdisc."
Despite the author's problematic dark side, Ireland says he can sympathize with Howard, who was considered crazy for his adolescent obsession with sex, violence and fantasy worlds, since Ireland himself was taken to a psychologist in grade four when he announced in Show & Tell that he had seen Psycho ten times.
"They were scared!" he laughs now. "Be afraid, be very afraid! My teacher was so terrified because I confessed I'd seen this movie and I loved it. The first day it opened, I did skip school to see it, and I finally got busted. If they were Walt Disney movies they might have thought a little big lighter about it, but it was things like Psycho, Room at the Top and The Apartment — anything that was adult. And also, I had this great affection for B-horror films. They would ask me what movie I was going to, and I'd say Darby O'Gill and the Little People, and I'd go across the street and see The Horrors of the Black Museum and The Wasp Women."
Wasp women over a singing Sean Connery? Hmmm. Tough call. So would Ireland — who's currently working on pre-production for Mona, a comedy based on Jules et Jim to be filmed in Vancouver or Toronto — like to direct a pulpy B-movie flick of his own? A Conan movie, perhaps?
"Oh, without question. Are you kidding? I'd like to do the ultimate Conan movie! I'd like to do it based on Danny Frazetta's work, creating that kind of visual work, I'd love to. And if I don't do it, Ridley Scott should do it. Seriously. It has to be that kind of world, that's hypnotic, 'cause no one's done that. The [John] Milius [and] Oliver Stone movie is pathetic, and the Richard Fleischer film is even worse. I know Robert E. Howard probably turned over in his grave 15 times when Conan the Barbarian came out, because it's just so bad compared to what it could have been. He was so rich in his vivid portrayal of the worlds, that not to take advantage of that and use that, it was a crime. And I watched it a couple of times — it was hard to watch, but it was important for me to watch it. And I just finally realized I'm going to get much more from just picking up Howard's work and reading it. And I did."
— A version of this article was first published in The Ubyssey.