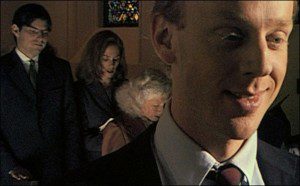 The title indicates this is a story about two friends, but Chuck & Buck is mostly told from the point of view of Buck (Mike White), a childlike man in his late 20s whose mind seems at first to be frozen in a state of permanent preadolescence. Buck still listens to old children's records and plays with Matchbox cars, and lollipops are the main staple of his diet. When Buck meets Chuck (Chris Weitz) for the first time in years, at a funeral for Buck's mother, he also demonstrates a knack for blurting out any thought that crosses his mind. "You don't look much different," says Chuck. "You do," replies Buck. "Your face is fatter."
There is something humorously endearing about these outbursts, as embarrassing as they might be. They suggest the innocence of a child who simply lacks the gift of discernment. But if Buck is a child, he is not entirely innocent, at least not in the ways of the flesh. During the funeral, he finds himself alone with Chuck and, longing for a return to the intimacy of their youth, he reaches for Chuck's crotch. Chuck promptly leaves, taking his fiancee with him, and heads back home to Los Angeles.
Buck is not one to take 'no' for an answer, so, with nothing else to do, he pulls up stakes and moves west to be closer to Chuck, or Charlie, as he prefers to be called now that he's a successful music-industry executive. Buck spends his days standing across the street from Charlie's record company, phoning Charlie's home number so often that Charlie changes it, even spying through the window as Charlie and his fiancee Carlyn (Beth Colt) have sex.
If Buck's obsession turns somewhat creepy, he never ceases to be an essentially sympathetic character. The interesting thing is that Charlie, despite his obvious discomfort, actually does try to accommodate Buck on several occasions. (Amazingly, Charlie never even considers slapping a restraining order on Buck.) But nothing Charlie does seems to satisfy Buck. Finally, Buck, who has befriended a sardonic children's theatre manager (Lupe Ontiveros), decides to write and produce a play depicting his longing for Charlie. The play's title: Hank & Frank.
The play-within-the-film is a tired old plot device, but it does give Ontiveros a chance to steal several scenes, as the character who directs the play. Still, the heart of the film belongs to White and Weitz, both of whom turn in surprisingly good performances, considering they usually work
behind
the camera. Weitz, who wrote and directed
American Pie
with his brother Paul (who appears as an actor in Buck's play), resembles a pudgy Tom Cruise, but he has a subtler acting style. And White, who wrote
Chuck & Buck
, finds deep complexities in Buck's simplicity.
Like a number of recent independent projects, Chuck & Buck was shot on digital video. Some have used the new format as an excuse to forego aesthetic concerns — witness the shaky hand-held home-movie camerawork in The Blair Witch Project — but director Miguel Arteta instead uses it to give his film an intimacy and immediacy that are wholly appropriate to the story.
How audiences will respond to the titular characters is anyone's guess. Buck may be a pathetic stalker, but he's also a kid at heart, and there are hints that Charlie, who is understandably defensive around Buck, may be getting some sort of comeuppance for the way he treated Buck back when they were "best friends". But ultimately, their relationship strikes a note of tenderness which, if not entirely believable, still somehow feels right.
3.5 stars (out of 5)
— A version of this review was first published in The Vancouver Courier.