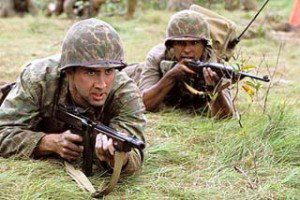 John Woo movies may be famous for their over-the-top action sequences, but what really makes them work is the way he focuses on the intense personal rivalry between his main characters. In films as varied as the Hong Kong classic The Killer and the Hollywood hit Face/Off, it's the battle of wills between cop and criminal, and the spiritual struggle within the protagonists, that drives the gun battles and the slow-motion pyrotechnics. Like those other films, Windtalkers — a World War II movie about Navajo code talkers and their uneasy relationship with their fellow marines — is also about a conflicted friendship and a man who wrestles with his conscience. But this time, the violence takes place on such a grand scale that it dwarfs the characters, who are, after all, just cogs in a larger military machine.
The film does, at least, shed light on an intriguing but little-known piece of military history. Because the Japanese had broken every other American code, the military hired Navajo troops to transmit encrypted messages using their native tongue, and this code, which was never broken, played a crucial part in the Allied victory. The code was so important, in fact, that other marines were assigned to protect these experts — and Windtalkers speculates that the guards might have been prepared to kill the code talkers, rather than let them fall into the hands of the Japanese.
The main duo at the heart of this film are Joe Enders, a weary, battle-scarred sergeant played by Nicolas Cage, and Ben Yahzee, an eager Navajo recruit played by Native Canadian Adam Beach.
As the only remaining member of a platoon that was wiped out in the Solomon Islands, Enders is weighed down by survivor's guilt, and the idea that he might have to kill Yahzee someday just keeps him that much more distant. The two men don't begin to overcome the cultural or personal divide between them until late in the film, when Enders hints that his Italian ancestors have had their own problems assimilating into American society. Yahzee's friend, Charlie Whitehorse (Roger Willie), has better luck bonding with his guard, Ox Anderson (Christian Slater), when the two of them realize they have a mutual love of music; between Anderson's harmonica and Whitehorse's wooden flute, they spend the time between battles searching for their own kind of racial harmony.
The script, by John Rice and Joe Batteer (who last collaborated on the terrorism flick
Blown Away
), underscores some interesting ironies as the troops fight their way across the isle of Saipan. Yahzee says he was beaten at the residential school he attended as a boy for speaking the Navajo language, yet now his dialect is proving to be an asset to his country. Elsewhere, a racist marine named Chick (Noah Emmerich) taunts Yahzee for looking like one of the Japanese, but this slight resemblance enables Yahzee to get close to enemy positions in a way the other marines can't. But the film's social lessons tend to be rather blunt, and its spiritual messages seem rather mixed. It is apparently a good thing, within Native spirituality, to be a warrior, but Enders talks as though it were impossible to be both a soldier and a good Catholic.
Woo's direction is similarly caught between two very different impulses, and the film feels strangely inert, as a result, despite the constant violence. Woo hasn't entirely given up the stylish flourishes of his action films — instead of doves and pigeons, we see butterflies and seagulls, and instead of pointing two handguns at each other, two soldiers point rifles in each other's faces. But he also wants this to be a brutally realistic war movie, in the mold of Saving Private Ryan and Black Hawk Down, and the resulting barrage of sound and fury, with occasional heroics thrown in for good measure, grows numbing. Woo tries several times to jolt the audience out of its seats, but his attempts grow increasingly predictable; all it takes is an unusually long silence, or an unnecessarily grand camera move, to let you know something's gonna happen.
Unfortunately, despite the best efforts of Cage, Beach, Slater, and Willie, the characters get lost in all this chaos, and they are ultimately hemmed in by the film's need to be what amounts to a two-hour commercial for native pride. From the fluttering flags to James Horner's shamelessly manipulative music, this is more like a patriotic "Heritage Moment" than a film about actual people.
2 stars (out of 5)
— A version of this review was first published in the Vancouver Courier.