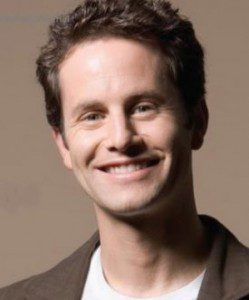 Kirk Cameron may be best known as a former teen idol and as one of the stars of the 1980s sitcom Growing Pains. But over the past decade, he has been cultivating another, very different fan base, as the star of several Christian movies — including the Left Behind series and Miracle of the Cards — and as an evangelist with The Way of the Master, a ministry he shares with Ray Comfort.
Cameron, who turns 38 in October, became a Christian while still in his teens, and he has been married to the actress Chelsea Noble — who he met when she guest-starred on Growing Pains — since 1991. He recently published a book about his life and career, called Still Growing: An Autobiography (Regal).
Now he has a starring role in Fireproof, the new movie from church-based filmmakers Alex and Stephen Kendrick, who made the popular Facing the Giants a couple ago. In the new film, Cameron stars as a firefighter trying to save his marriage.
Cameron spoke to CT Movies by phone while promoting his book.
Did you approach the Kendricks about appearing in Fireproof, or did they approach you?
Cameron: I approached the Kendricks after seeing Facing the Giants and said, "You guys did such a great job on this little movie, if I can help you out with your next one, please let me know, I'd love to be a part of it." And through a series of events, I developed a friendship with the Kendricks, and after they had auditioned everyone they thought might be right for the role, they couldn't find anyone. Then they asked me if I would fly to Georgia and audition.
How did it feel, auditioning for something like this?
Cameron: I was really excited because I wanted to be a part of this movie. It was such an exciting story, and it was a tough audition. They made me audition nine of the hardest scenes in the movie, I mean the ones that were the most emotionally stressful, from crying my eyes out to being angry and verbally abusing my wife, commanding firefighters to asking my wife to forgive me. It was an unconventional way of getting a film for me, but it was a pleasure to be a part of that whole ministry project.
As a Hollywood star, did you ever have the sense that you shouldn't be auditioning for something as small and volunteer-based as this — that they should have simply been grateful to have someone of your caliber? I don't mean it to sound as bad as it might, but do you know what I mean?
Cameron: Yeah, I know, it's kind of a funny question to articulate. But I think I understand what you're saying. And there was the sense, when they asked me to come audition, in which my manager and even myself to some degree said, "Well, you know, I've been at this for 25 years, you can pretty much see what I've done in the past." And I think the point was, they weren't convinced, based on what I had done in the past, that I was the right guy for this role.
There really is no other role that I've played that has required the kind of digging down deep and being emotionally intense the way that this character is in this film. So in essence, it was like, "Hey, you know, we don't know if Kirk can cut it. We like him and what he stands for, but we need to see him do things that he's never done before." And so that's why they wanted me to audition, and I understood that.
So I worked with an acting coach, developed some skill that I hadn't exercised before, and went out there and gave it my best. And they came to the conclusion that I was the guy for the role.
How did you find working in that environment, with volunteers and non-professionals?
Cameron: It was very different from a typical Hollywood big-studio, big-budget movie. And it was so much better. What I really loved about it was that these were people who didn't know what the typical protocol was on a movie set, so they were just kind of blazing their own trail. You couldn't smell ego anywhere, because again no one was being paid for this, and everyone considered it a privilege to be there.
We would start the day with the whole cast and crew literally on their knees, in the middle of the set, praying and thanking God for what had already happened in the production, for all the blessings that we had experienced, and asking for his protection and his blessing on the day's work.
When you'd do a scene where you were emotionally maxed out, and you're trying to make it believable, and you know that there are 30 people in the next room praying for you while you're doing the scene—that's very encouraging. That kind of support and focus really made all the difference. It was a set unlike any other set that I've been on.
In your book, you say that there were very few Christians on the set of Left Behind, so even just within the Christian filmmaking business, it sounds like there was a big difference between working on those films and this one.
Cameron: Definitely. You'd think on a movie about the return of Christ, you'd have a lot of Christians there, but to my knowledge there weren't any other Christians on the crew or in the cast. There were some professing Christians — I'm not sure what that really meant or what their faith really entailed — but my wife was a Christian, I was a Christian, and the other lead characters in the movie certainly were not.
What about Clarence Gilyard [who played Pastor Barnes in Left Behind and has talked about his faith]?
Cameron: When I asked Clarence, he said he was a devout Catholic, and what he means by that, I'm not exactly sure. I would say there are significant differences between biblical Christianity and Roman Catholicism, but even within Protestant circles and Catholic circles, you've got a whole gamut of different beliefs and where people come down on certain issues. So as far as I knew, there weren't a lot of Christians that I could sit down and say, "Hey, we're on the same page and we understand the essentials of the faith."
I think a lot of Christian production companies try very hard to tuck that Christian stuff away. Even if their script has to do with Christianity, they desperately want to be taken seriously as a real Hollywood production company, so they kind of hide all that stuff. Whereas working on Fireproof, this was produced by a church — this is just an extension of their marriage ministry — so there was no camouflaging the fact that this was a ministry project.
How important do you feel it is that a Christian film have people who believe offscreen what their characters are doing onscreen?
Cameron: I think it's very important, particularly for the lead characters who are ultimately going to be ambassadors for your project.
An example that comes to mind: Chad Allen in End of the Spear. That was just a nightmare situation, for the producers later on to have him on the cover of a magazine as a gay advocate for the homosexual lifestyle. People will see this movie and say, "This is a movie about the gospel and the word of God and your lead guy is a homosexual? Where's the consistency here?" It obviously was just an acting gig for this guy, not something he really believes. And even though it's make-believe, people who have strong convictions, particularly about faith in Christ, they want to know that people are the real deal.
While I don't think it's necessary to always hire Christians — you want to hire people who do their job well, and sometimes that means in the key positions you need to have people who just do the skill well and don't have the faith — but for Fireproof, the philosophy was: "We want God's hand of blessing on this project, we're not as concerned about technical excellence as we are about spiritual faithfulness." I think God has blessed their faithfulness to want this to be a movie with integrity in front of the camera and behind the scenes.
They even had a spiritual interview with me! It kind of went like this: "Hey Kirk, is there anything going on in your life, personally, that might cause God to remove his hand of blessing from this project? We don't want any hypocrites. So if you're involved in any drug or alcohol problems, or you're sleeping around or have issues with some morality, we'd like you to tell us so we can move on and find a different actor."
Wow.
Cameron: Yeah, really. And they actually did have some people step down and disqualify themselves because they really respected these guys and didn't want to get in the way of what they were trying to do in asking God to bless the project.
Jesus built this spiritual empire and a church that has lasted for 2,000 years. He didn't go to the religious leaders of the day. He didn't say, "Let me get the two or three most excellent Pharisees that I can find." He picked the nobodies with not a lot of talent, the not so noble, the not so famous, and he used these guys to send a message that has transformed the world. Ultimately his confidence is in the power of God, working through nobodies, so that God gets all of the glory. I think that's the same philosophy that went into the making of the Kendricks' movies.
In your book, you mention dealing with your parents' separation. Did that inform the way you play your character in Fireproof?
Cameron: Certainly that speaks to the problem that so many people have in marriage — they come to a place where they feel that they can't work out their differences, and it might be better off for them to split.
But I think the thing that inspired me even more was my own marriage. I've been married for 17 years, and anybody who's been in a relationship that long, you come to realize that there's a lot of selfishness that goes on in relationships. It's selfishness that ultimately tears relationships down, and the wonderful news of the gospel is that not only has Jesus Christ died for your sins and he offers you eternal life, but he transforms you into a new person and you learn how to die to yourself. That's the key to any lasting relationship, learning to die to yourself, because the love of self is what's killing marriages. I'm a sinner who said "I do" at an altar with my wife, and those are lessons we're learning every day.
So to be able to do a movie about marriage, where I could see myself in those exact same scenarios to some degree, that's why I was so invested in the movie. I know the challenges and struggles, and I think this movie provides some solutions that are very practical and effective.
— A version of this interview was first published at Christianity Today Movies.