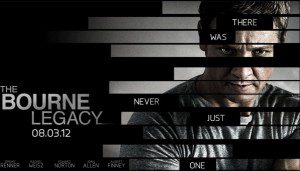 The constant retconning on the Bourne movies is really something to behold. The first sequel didn't do anything too outrageous — it just added some flashbacks to an earlier point in "Jason Bourne's" career — but it ended with an epilogue in which Bourne, an amnesiac, learns his real name. So the second sequel had to get a wee bit more inventive, if it was to keep this amnesiac-on-the-run storyline going; instead of picking up where the first sequel left off, the bulk of the second sequel actually takes place before the epilogue to the first sequel. And then, by the end of that second sequel, Bourne's real name had been shared not only with Bourne himself but with the world at large. The amnesiac-on-the-run premise had been exhausted. The franchise simply had nowhere to go from there.
But that hasn't stopped the filmmakers from coming up with a new angle, and revising everything we thought we knew yet again. "Jason Bourne" himself is not a major figure in The Bourne Legacy, which comes out next week — but apparently his actions had a domino effect on a whole bunch of other characters who will now be introduced to us for the first time. And, just to make things even more convoluted, a just-released featurette explains that the new, fourth movie actually takes place at the same time as the third movie. Which presumably means that it, too, takes place at least partly before the end of the second movie. Whew.
Incidentally, did you catch that bit about chromosomes? It sounds like they're taking this franchise in an increasingly sci-fi-ish direction. So are we going to find out that "Jason Bourne" and the other assassins were not merely highly trained at what they did, but genetically engineered as well? This is beginning to remind me of how George Lucas introduced "midichlorians" to the Star Wars prequels.