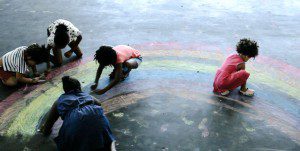 Last month, I noted that Mark Dornford-May, the South Africa-based director of U-Carmen eKhayelitsha (2005) and Son of Man (2006), had combined his interest in things biblical and operatic by directing an adaptation of Benjamin Britten's Noye's Fludde.
Since then, I have been reading and working on a review of Son of Man: An African Jesus, a collection of essays about Dornford-May's second film, and one of the things I have learned from that book is how certain elements of that film are essentially borrowed from the Chester Mystery Plays — and that's rather interesting, as the opera behind Dornford-May's newest film is, itself, based on one of those plays.
The new film, which is called Unogumbe and runs a mere 33 minutes, had its world premiere at the Toronto International Film Festival last night. I have not yet found any reviews of the film online, but you can watch the trailer here:
Note, incidentally, that Pauline Malefane does not appear to be playing Noah's wife, as I reported in my previous blog post, so much as she appears to be playing Noah himself — or at any rate, she is playing the function within the story that the biblical Noah did. (The IMDb does say that Malefane's character "has to deal with a drunken husband", so both Mr Noah and his thing for liquor will be part of this film.)
Note also that this marks the second time Malefane has received a divine message in one of Dornford-May's films, following the unforgettable Annunciation scene from Son of Man, in which she played the Virgin Mary. (Prior to that, Malefane, who is married to Dornford-May, played the title character in U-Carmen eKhayelitsha.)
Alas, it does not look like Unogumbe will be playing at the Vancouver International Film Festival later this month, so I don't know when I'll be able to see it. But I'm definitely keen to do so — hopefully before Darren Aronofsky's Noah comes out!