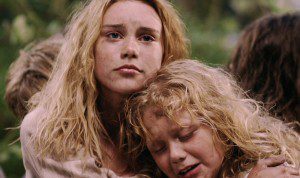 Perhaps the most surprising Oscar nomination announced this morning was for an obscure independent Christian film called Alone Yet Not Alone, which was nominated for its title song, sung in the film by Joni Eareckson Tada.
One of the reasons most people hadn't heard of the film, which is set during the Seven Years' War (or the French & Indian War, as it is known in the United States), is that it hasn't actually had a proper release yet. According to Deadline, the film did have a week-long Oscar-qualifying run back in September, but according to the film's website, it won't actually play in most theatres until sometime in June!
So how did the film get the attention of the Academy's music branch?
Well, for one thing, the theme song's music was written by Bruce Broughton, a former head of the music branch who was previously nominated for an Oscar for the score he wrote for Silverado (1985). According to Deadline, Broughton hired a publicist to promote the song and even made some phone calls to his colleagues personally.
Also, the film's score was written by William Ross, who has served as the musical director for the Academy Awards on several occasions and will apparently do so again this year — so that suggests another set of connections behind the scenes.
The lyrics to the song, incidentally, were written by Dennis Spiegel, whose credits as a songwriter for film include everything from Blame It on Rio (1984) and Warriors of Virtue (1997) to the Billy Graham film The Prodigal (1983).
So, on March 2, will we see Joni — a quadriplegic whose life story was turned into one of the best Billy Graham movies ever back in 1979 — singing on stage at the Oscar ceremony? That could certainly be interesting.
Here is a trailer for the film — which, for what it's worth, has been endorsed by Rick Santorum, James & Shirley Dobson, and representatives of the Family Research Council and Concerned Women for America, among others:
http://www.youtube.com/watch?v=3n0TORpISk8
And here is the Oscar-nominated song, preceded by a 50-second prayer:
Just for the record, here are the other nominees in this category:
January 17 update: This post has been updated to include a paragraph about the film's composer William Ross and his connection to the Oscars.