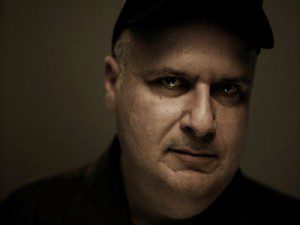 Not every story set in the ancient world is based on the Bible or on Greco-Roman history. Two major projects set in ancient Egypt are currently in the works — and one of them started filming just a few days ago.
Variety reports that Alex Proyas — who was actually born in Egypt, to Greek parents, and moved to Australia with his family when he was just a few years old — began shooting Gods of Egypt in Sydney last Thursday. The film reportedly has a budget of $150 million. (That's Proyas pictured above.)
It's not clear to me whether the story will be primarily about the gods or the humans who interact with them, but depending on who you read, the story either revolves around "a young thief who enlists the help of the ancient gods to bring his beloved back to life," or it is "set in motion when a ruling god … kills another".
Either way, the thief is being played by Brenton Thwaites, his beloved is being played by Aussie newcomer Courtney Eaton, and the various deities are being played by Gerard Butler (Set), Geoffrey Rush (Ra), Nikolaj Coster-Waldau (Horus), Chadwick Boseman (Thoth) and French-Cambodian actress Elodie Yung (Hathor).
Meanwhile, the Fox network is proceeding with Hieroglyph, a 13-episode action-adventure series about "a notorious thief who is plucked from prison to serve the Pharoah," and who ends up "navigating palace intrigue, seductive concubines, criminal underbellies and even a few divine sorcerers."
The thief in this case will be played by British actor Max Brown, and the thief's mentor will be played by Welsh actor John Rhys-Davies — who famously played a more modern sort of Egyptian in Raiders of the Lost Ark (1981).
The Pharaoh himself will be played by Reece Ritchie, and apparently his name will be Shai, which doesn't seem to be the name of any historical Pharaoh of which I am aware. It is, however, the name of the Egyptian god of fate.
The Pharaoh's half-sister Nefertari will be played by Condola Rashad, and one of his concubines — "a spy for a rival kingdom" — will be played by Kelsey Chow.
The show's IMDb page indicates that the first episodes might be ready to air by the end of this year, but of course, that could always change.
Gods of Egypt, for its part, is targeting a release date of February 12, 2016.