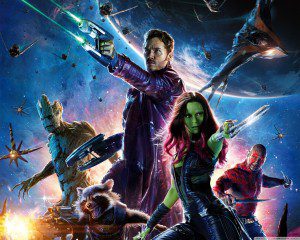 This is my first box-office update since July, and a lot has happened since then.
The big news, of course, is the phenomenal success of Guardians of the Galaxy, a film that was based on one of the more obscure Marvel properties, had no major stars, and revolved around some pretty wacky ideas (like a talking, machine-gun-toting raccoon), yet still managed to become the top-grossing Marvel Cinematic Universe movie without Iron Man, at least in North America.
Overseas, it ranks behind all of the Marvel sequels, but ahead of all their other "original" films except for The Avengers — and that was really kind of a super-sequel, too. So you could say that, worldwide, Guardians of the Galaxy is the top-grossing Marvel Cinematic Universe movie that introduced a new set of characters.
The record-setting stats don't end there.
This week, Guardians of the Galaxy passed 1999's The Sixth Sense to become the top-grossing August release in North America. (The Sixth Sense is still in first place overseas, and without the aid of 3D surcharges or 15 years of inflation.)
Guardians of the Galaxy already had the biggest first weekend of any movie released in August, by far: its $94.3 million opening was well, well ahead of the $69.3 million that the previous record-holder, The Bourne Ultimatum, opened to in 2007.
More recently, it was also the first film to be #1 in its fourth week since The Hunger Games in April 2012, the first film to be #1 in its fifth week since How to Train Your Dragon in April 2010 and the first film to be #1 in its sixth week since… well, that depends. Frozen was #1 in its sixth week of wide release earlier this year, but that was technically its seventh week, since it spent a week in limited release. (Frozen was #1 in its third and seventh weeks only.) So if you skip past that, Guardians of the Galaxy was the first film to be #1 in its sixth week since Avatar in January 2010.
And while Guardians of the Galaxy was not #1 for its second and third weeks in North America as a whole — it briefly fell behind the Teenage Mutant Ninja Turtles reboot, which has also done well — it has been #1 for a solid six weeks in Canada.
So, hooray for Marvel. The news in other areas has been a bit more discouraging.
Sin City: A Dame to Kill For — a sequel to 2005's Sin City — is on the way out after just a few weeks with only $13 million in the till, which marks the second-lowest gross ever for a wide release directed by Robert Rodriguez. The only major film of his that has made even less money was last year's sequel Machete Kills.
Similarly, the star-studded Expendables 3 grossed only about $37 million in its first month, which is way less than the grosses for the films that preceded it.
Even my beloved ancient Greco-Roman genre underperformed.
Hercules, starring Dwayne Johnson, has earned $71.4 million in North America since opening July 29, and another $122.9 million overseas, for a worldwide total of $194.3 million. That's not too bad, for a film that reportedly cost $100 million to make, but it's not great either — and it's well, well behind what 300: Rise of an Empire made earlier this year ($106.6m domestic + $224.5m overseas = $331.1m worldwide).
In fairness, though, Hercules does have one of the best grosses of any film in which (a) Dwayne Johnson is the lead and (b) the film isn't a sequel or spin-off to an existing franchise. The only film like that that's done better in North America is 2007's The Game Plan ($90.6 million), and none of those films have done better overseas.
Finally, there is the "faith-based" genre, which isn't looking even remotely as hot right now as it did earlier this year.
The one recent film in this genre that has come even close to being a success is When the Game Stands Tall, which has earned $23.2 million after three weeks.
That's nowhere near the heights climbed earlier this year by films like Heaven Is for Real ($91.4 million), God's Not Dead ($60.8 million) and Son of God ($59.7 million), but it's well ahead of Moms' Night Out ($10.4 million) and especially more recent flops like Persecuted ($1.6 million) and Alone Yet Not Alone ($887,851).
This past weekend saw two new films that were pitched to the "faith-based" market, and neither of them did particularly well: The Identical, the only new wide release this week, opened at #12 with a mere $1.6 million, while The Remaining grossed $159,143 in 67 theatres for a per-screen average of $2,375. (That was one of the better per-screen averages in a slow week, but it was well behind the averages for Guardians of the Galaxy and indie flicks like The Trip to Italy and Love Is Strange.)
What accounts for so many "faith-based" movies underperforming right now?
The Wrap says part of the problem may be that these films are not primarily about faith itself. Unlike God's Not Dead, Heaven Is for Real and Son of God — which boldly state their religious themes within their very titles — films like Moms' Night Out, When the Game Stands Tall and The Identical are primarily about something else, whether it is maternal stress, high-school football or musical nostalgia.
A glutted market could also be part of the problem — especially in a weekend like this past one, when the "faith-based" audience had not only The Identical and The Remaining to choose from, but a documentary called Holy Ghost, which was shown at churches around the continent and distributed online for free on Saturday.
Will the "faith-based" genre bounce back? We shall see.
The Song, which reimagines Kings David and Solomon as modern-day country musicians, opens in limited release September 26.
And then the reboot of Left Behind opens wide October 3 — and as if to boost their chances, the filmmakers recently revealed that Duck Dynasty's Willie Robertson, who co-starred in God's Not Dead, is one of Left Behind's executive producers.
As ever, stay tuned.