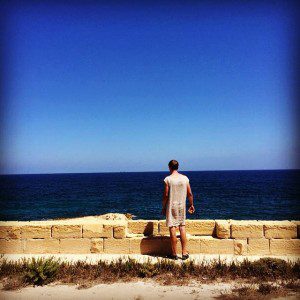 Four quick Bible-movie-ish items.
1. I somehow missed the fact that Clavius, which concerns a Roman soldier investigating reports of the Resurrection of Jesus, started shooting a couple weeks ago. Tom Felton, who played Draco Malfoy in the Harry Potter movies, posted some photos to Instagram — and apparently he's playing a character named Lucius, which also happened to be the name of Draco Malfoy's father.
In addition to Felton and Joseph Fiennes, who is playing the presumably titular Roman investigator, the film's IMDb page lists several actors who are playing well-known Bible characters — and at least two of those actors have extensive experience in the Bible-movie genre already.
Peter is being played by Stewart Scudamore, who previously played Judah in In the Beginning (2000), James in an episode of Bible Mysteries (2004), Simeon in The Nativity Story (2006) and the Pharaoh Ramesses in The Bible (2013); he will soon be seen as Hamor, the king of Shechem, in The Red Tent as well.
And James — the brother of Jesus, or the son of Zebedee? — is being played by Selva Rasalingam, who stars as Jesus himself in the Lumo Project, an adaptation of all four gospels that has been in the works for a few years and is due either this year or next. Prior to that, he played Asher, one of Jacob's twelve sons, in Joseph (1995).
The IMDb also lists actors playing the disciples John, Philip, Bartholomew, Mary Magdalene and Cleopas (will the film acknowledge the tradition that Cleopas, who saw Jesus on the road to Emmaus, was also Jesus' uncle?), as well as actors playing Caiaphas, Pontius Pilate and some as-yet-unannounced characters.
Pilate is being played by Peter Firth, who has played at least one other Roman officer with experience in Judea. In The Battle for Rome (2006), he played Vespasian, who was the general in charge of the Roman side of the war in Judea when he became emperor in AD 69, one year before the destruction of Jerusalem.
2. More casting news for The Dovekeepers has come in.
Rachel Brosnahan (House of Cards, Manhattan) is set to play Yael, one of the four female protagonists who live in Masada during the Roman siege of that fortress, while Kathryn Prescott (Skins, Finding Carter) is set to play Aziza, a "teenage tomboy and expert archer" who is also a lover to Yael's brother Amram.
Still no word on what's happening with A.D., the other miniseries set in first-century Judea that Mark Burnett and Roma Downey are producing.
3. 20th Century Fox will release an "extended musical edition" of Black Nativity to Blu-Ray on October 7. No details on what new bits it will have, yet.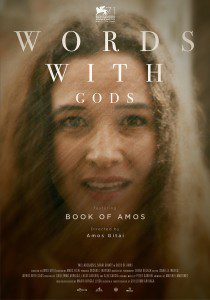 4. The anthology film Words with Gods — which includes the segment 'Book of Amos' directed by Amos Gitai, who has previously directed feature-length treatments of Esther and Ruth — had its premiere at the Venice Film Festival over the weekend, and the reviews are beginning to trickle in.
Here is how Boyd van Hoeij of The Hollywood Reporter describes it:
Sandwiched between Sufferings and The Confession is the film's most enigmatic if also rather entrancing entry, Book of Amos, from Israel's Amos Gitai. Like in his recent feature Ana Arabia, the film consists of one continuous shot, here moving sideways from left to right as different actors, most of them Gitai veterans such as his Kadosh star Yael Abecassis, recite verses from the titular book, which is part of the Hebrew Bible. As the actors deliver their oft-impenetrable prophetic texts to the camera, soldiers fight and cars are burnt in the background and even a violent rainstorm descends on these steadfast prophets in modern dress.
And here is Guy Lodge of Variety:
More conceptually elaborate is Amos Gitai's "Book of Amos," in which passages from the eponymous Hebrew text are recited by a relaying group of street folk (played by faces familiar from Gitai's past features) as soldiers face down a public riot. Certainly the most topical entry in light of current events, it's executed with some panache but feels rather exclusive in its Biblical and political allusions.
If I find any more reviews, I may add them to this post.