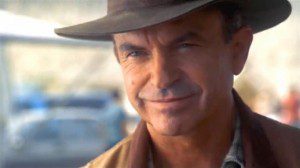 Various news sites are reporting today that Sam Neill has joined the cast of The Dovekeepers, the upcoming miniseries about four Jewish women who live in Masada during the Roman siege of that fortress in the first century AD.
Neill will play Josephus, the Jewish historian whose first-hand account of the Jewish-Roman War is our primary source for it. (Josephus did not fight at Masada himself, but he did lead Jewish armies against the Romans in Galilee until he surrendered and defected to the other side, serving the Romans as a translator when they destroyed Jerusalem.)
Josephus does not appear to be a character in Alice Hoffman's original novel — his name doesn't come up at all (except in a note on the author's historical research) when I search inside the book at Amazon or Google Books — but apparently the miniseries will show him interviewing the few adults who survive the siege.
Many Bible films, from Cecil B. DeMille's The Ten Commandments to Mark Burnett and Roma Downey's Son of God, have padded out their stories with material from Josephus's writings, but Josephus himself hasn't been depicted all that often. So this would probably be the highest-profile dramatization of the character yet.
Neill has played his share of historical roles over the years, but to my knowledge, he has never appeared in anything quasi-biblical before. (The siege of Masada isn't actually in the Bible, but it began in Judea only a decade or so after the events of the Book of Acts, so.) He did, however, play the Antichrist in The Final Conflict.