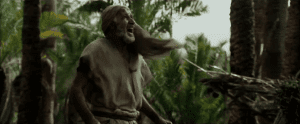 The Hollywood Reporter has a new story today on the sound editors and sound mixers who worked on three recent Oscar contenders, including Exodus: Gods and Kings. (The other films profiled by the Reporter are Unbroken and The Hobbit: The Battle of the Five Armies.) Below is an excerpt from that story:

For Ridley Scott's biblical film Exodus, the sound team's challenges incuded a locust swarm. "The locust-wrangler from production had prepared hundreds of locusts for us to record but despite the application of some sweltering heat lamps, these apathetic insects were highly reticent to swarm on cue," said Oliver Tarney, supervising sound editor and designer. "Unfortunately, even if they had been on form, the sound of their wing beats is much more of a 'soft purring' than the threatening buzz we needed to match the ominous spectacle of millions of swarming locusts invading. We turned to other insect recordings we'd made as the foundation of our locust design. Once we had the swarm sounding realistic we were asked to add a vocal element to heighten the menace, this really helped to sell them as a ferocious threat."
Tarney also describes how the second plague's frogs became "extremely vocal" when the filmmakers tricked them into thinking they were being "courted", and sound mixer David Stephenson talks about the difficulty of filming dialogue by the Red Sea.
I linked to interviews with the sound team on Darren Aronofsky's Noah last week. If I find any more interviews with the Exodus team, I will add them to this post.