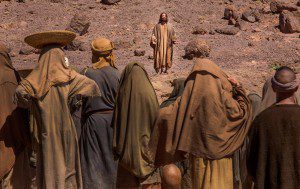 An Old Testament movie directed by Ridley Scott is currently fizzling at the box office. Will a New Testament movie produced by him fare any better when it premieres on television this spring?
That was the question some reporters were asking at the Television Critics Association today, as they met some of the cast and crew from Killing Jesus. Like its predecessors Killing Lincoln and Killing Kennedy, the film is based on a book by Bill O'Reilly and Martin Dugard, and it was produced by Ridley Scott (and others) for the National Geographic Channel.
Deadline reports that one journalist asked if Killing Jesus would be closer in spirit to Mark Burnett & Roma Downey's Bible-themed projects, or if it would be closer to the work of Scott, who recently directed Exodus: Gods and Kings. Scott himself wasn't there to answer the question, but executive producer David Zucker responded, "I hope since we're working with Ridley it would be more in line with what he would do."
Walon Green, who wrote the script for Killing Jesus, said non-Christian viewers "will really like this film because they can immerse themselves in the human story of this phenomenal guy Jesus and what he is, and what he comes from — his roots."
Kelsey Grammer, who plays Herod the Great, said the film's "humanized" portrayal of Jesus would probably "win praise from every part of the Christian world" for its "relevance". He also commented that Herod "was always worried about being killed. That I thought was fascinating. That humanized him to me in a lot of ways."
Finally, Haaz Sleiman, the Muslim (by upbringing, at least) actor who plays Jesus himself, said he is very "influenced" by the teachings of Jesus, and that he felt love for the cast and crew while they were making the film. He even said that the teachings of Jesus saved him from the "dark relationship" he once had with himself.
Here is the first ad for the film, courtesy of The Hollywood Reporter: