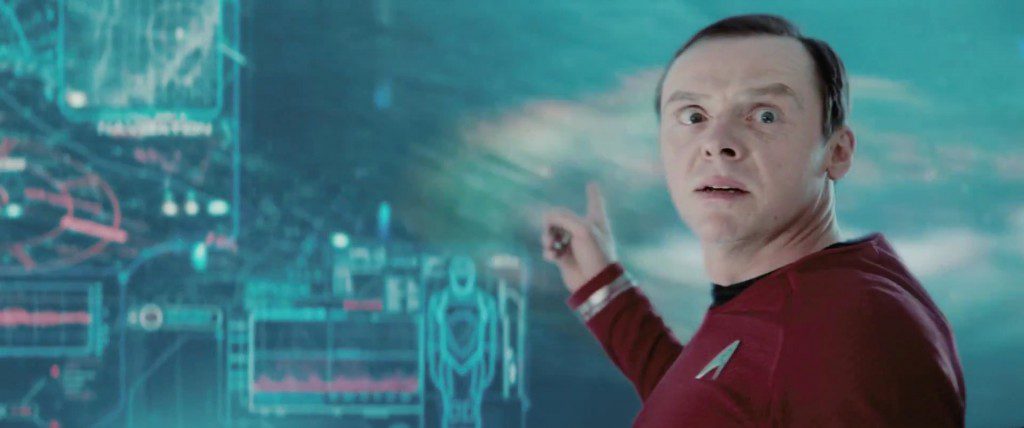 Today's the day that Star Trek 13 starts shooting here in Vancouver.
That, at any rate, is what it says at Creative BC, which keeps track of all the movies and TV shows shooting around here (the codename for this film, which will be filming here until my birthday in October, is Washington). Plus, it looks like several of the cast members have been spotted around town over the last few days.
In addition, Zachary Quinto posted a picture of his shaved eyebrow two days ago and said it was his "first day back" — the same day Zoe Saldana tweeted a picture of herself in the makeup trailer. So, it looks like this is finally happening now, right?
The last time I posted anything about this film, back in January, it had just been announced that co-star Simon Pegg, who plays Scotty, was going to write the script for the film with Doug Jung. (An earlier script, written primarily by Roberto Orci — who co-wrote the last two movies — was ditched by the studio a month earlier.)
Since then, there hasn't been a lot of information about the film — but Pegg did reveal about a month ago, in an interview with Radio Times, that he had only just handed in the first draft, a mere "four weeks" before shooting was scheduled to start!
Pegg also said that the studio had ditched Orci's script because "it might have been a little bit too Star Trek-y," in the sense that it would appeal to Trekkies only.
The solution, according to Pegg, was to tackle a genre other than science fiction: "Let's make a western or a thriller or a heist movie, then populate that with Star Trek characters so it's more inclusive to an audience that might be a little bit reticent."
In some ways, that actually isn't too far from what the original series did, where any given episode could be a battle story, a medical drama, a romance, a murder mystery, a comedy, a horror story, a courtroom drama and, yes, even a western or two.
Plus, in one crucial way, Pegg has said that the new movie will be closer to the original Star Trek series than the two movies he has already appeared in. Specifically: unlike the two J.J. Abrams movies, which were very tied to Earth, the new movie will take place primarily in deep space, "where no man has gone before" and all that.
Meanwhile, director Justin Lin spoke to
Deadline
a few weeks ago about the role
Star Trek
has played in his life, and he echoed Pegg's comments about finally getting into the space exploration that the original show was known for (boldface added):
"As great as JJ's films were, there's still a lot to be mined from these characters," Lin said. "They haven't really gone on their five-year mission, so what we experienced in the TV show hasn't been touched on yet. That sets up an opportunity for exploration and the deeper you go, the more you are examining humanity. Those are the things that I absorbed as a kid and hope to tap into and embrace and celebrate. By the time this movie comes out, Star Trek will have been around for 50 years." Lin wouldn't say much about the script written by cast member Simon Pegg and Doug Jung, but he said a couple things. First, Pegg isn't in every scene as one might imagine when the script is by a member of the ensemble cast. And the plot isn't borrowed from old Trek episodes the way the last film was. "It's all new and fresh," Lin said. "The Klingons, Romulans and other species are great, but it's time to go further. It has been fun to focus on creating whole new worlds and species."
Drew McWeeny at Hitfix says it sounds like the rebooted franchise could finally be shaking off its origin-story fixation and getting on with what made the original show so special — and he compares this to how the James Bond franchise is still stuck in an origin-story rut even as its fourth post-reboot movie looms ahead of us:
After all, the thing that is most frustrating about the Daniel Craig series is the way they seem to tie themselves in knots making sure that James Bond never really has a chance to be James Bond. I get that they took him back to the beginning for "Casino Royale," and I'm okay with that. But it took three films for him to shake off his own personal baggage, and by the end of "Skyfall," everything was in place. Moneypenny manning the desk, the new "M" firmly installed, James ready to just go to work as the super-spy we know and love. And in the new one? Well, once again he goes rogue, and once again, it's all very personal, and once again, we're going to get a movie that almost sadistically refuses to snap into the familiar shape that has kept Bond fans happy for 50 years. It sounds like we're done idling with "Star Trek," and I'm hoping Pegg really does pull off the trick of turning this into the "Trek" we've been waiting for while keeping the studio happy at the same time.
I hope so too. We'll find out when the film, which may or may not be called Star Trek Beyond, opens on July 8, 2016 — which is only 12½ months from now!