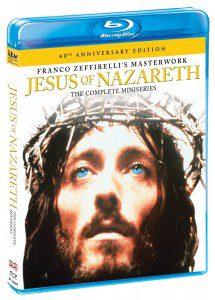 Does anyone know basic math any more?
It's always great to see classic films on Blu-Ray. But the studios seem to be increasingly… imprecise when they declare that this or that disc is a special anniversary edition of the movie in question.
Case in point: a "50th anniversary edition" of the 1959 version of Ben-Hur was released in… 2011, which was actually the 52nd anniversary of that film.
And now, a "40th anniversary edition" of Franco Zeffirelli's 1977 miniseries Jesus of Nazareth is due to come out this year… which is actually the 39th anniversary of that miniseries.
Ah well. In any case, the Blu-Ray comes out on February 23, and you can order it here.
(Just look at how the cover art emphasizes the blueness of Robert Powell's eyes!)
(Update: Not only is the Blu-Ray not coming out on the miniseries' 40th anniversary, it will also not be as "complete" as the cover text suggests. The disc will be missing at least two scenes, including the beginning of the Last Supper.)
And speaking of anniversaries…
I haven't always done a good job of marking significant Bible-movie anniversaries over the last few years, but there are a few biggies coming up, such as:
Am I missing any? If so, please let me know in the comments below.