Here's a quick news item: A film called 40 Nights, which concerns the time that Jesus spent in the wilderness after his baptism, is premiering in Michigan tomorrow.
Jesus is played in the film by DJ Perry, who has been involved with a few other Bible films (more on that in a minute). But perhaps the biggest names in the cast are Rance Howard (father of Ron and Clint, grandfather of Bryce Dallas), who plays the Devil, and the late Grizzly Adams star Dan Haggerty, who plays Yahweh (!).
You can read more about the film at its website, which has lots of images and links to numerous news stories about the film. And you can watch the trailer here:
Perry, incidentally, was an actor and co-producer on The Book of Ruth: Journey of Faith, a 2009 direct-to-video film that starred Carman as Boaz; and, according to the IMDb, he is currently attached to co-produce and co-star in Rachel, a film that has 70-year-old former Bond girl Lana Wood attached to play Rebekah.
The
Lansing State Journal
says
40 Nights
is also the first in a three-movie series:
One of his films, "The Book of Ruth," did well for a company focusing on Christian video. When an executive with that company started his own firm, he gave Perry a deal for three films. First is Jesus testing himself. Next (with filming starting next week) are wise men following the star; the final one will follow the Roman soldier who killed Jesus.
40 Nights, of course, is not the only movie about Jesus' temptation on the horizon. Last Days in the Desert, a minimalist film starring Ewan McGregor, premiered at the Sundance film festival last year and is slated for a limited release on May 13.
Here is the poster for 40 Nights — which, incidentally, says the film is rated G, but there is no record of a rating for the film at the MPAA's official website: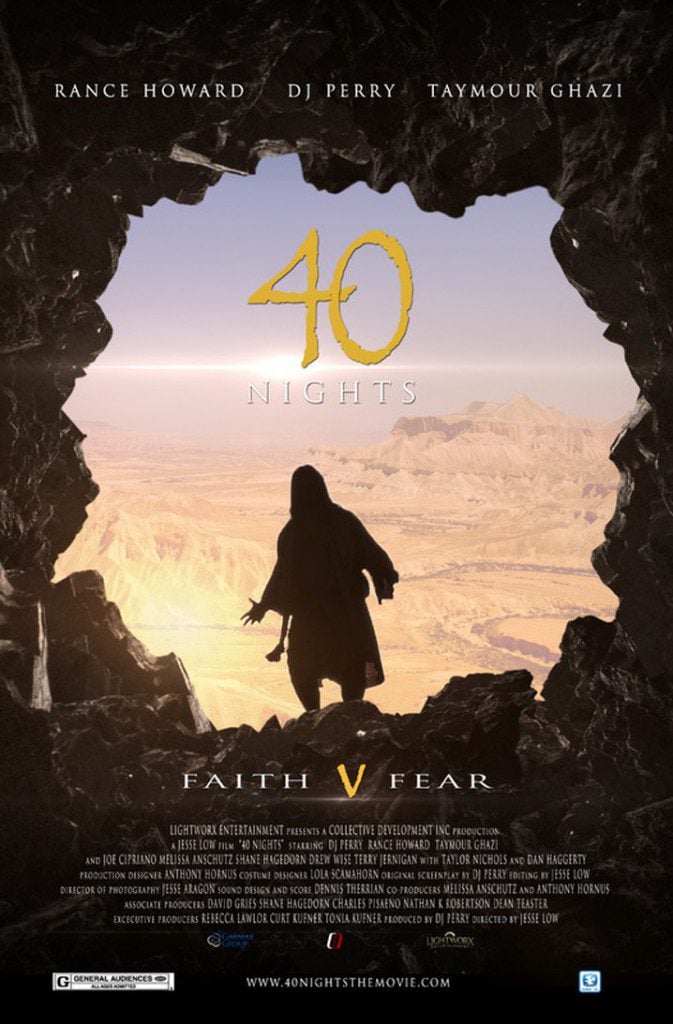 — The image at the top of this post comes from the 40 Nights website.