More DVD news: the Criterion Collection has announced that it will release a special edition of Terrence Malick's The New World this summer that includes all three versions of the film in a single four-disc set — and they will all be in high definition, too, which I believe is a first for the two theatrical versions of the film.
The three versions of the film are:
the 150-minute version that was shown to critics and given an Oscar-qualifying limited release in December 2005
the 135-minute version that got a wide release in January 2006
the 172-minute version that was released on DVD in October 2008
The Criterion edition will also include:
Making "The New World", a documentary shot during the production of the film in 2004, directed and edited by Austin Jack Lynch (previously available on the DVD edition of the 135-minute version of the film released in 2006)
New interviews with actors Colin Farrell and Q'orianka Kilcher
A new program about the making of the film, featuring interviews with producer Sarah Green, production designer Jack Fisk, and costume designer Jacqueline West
A new program about the process of cutting The New World and its various versions, featuring interviews with editors Hank Corwin, Saar Klein, and Mark Yoshikawa
Trailers
A book featuring an essay by film scholar Tom Gunning, a 2006 interview with Lubezki from American Cinematographer, and a selection of materials that inspired the production
I got to take part in roundtable interviews with Q'orianka Kilcher, Christian Bale, Wes Studi and producer Sarah Green when the film first came out, way back in December 2005. You can read my junket report here, and some "bonus quotes" here.
Here is the Criterion Blu-Ray's cover art: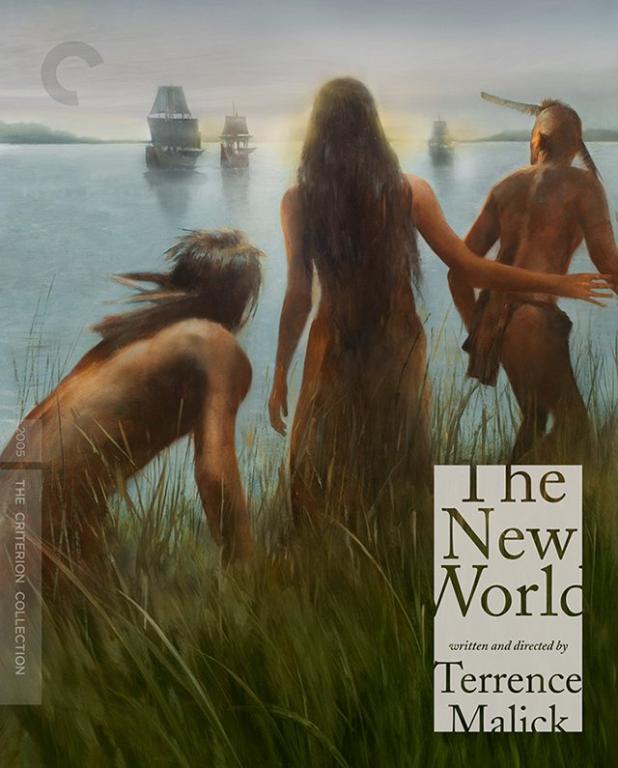 Criterion posted these samples of the "restoration" work they've done on the film:
The Criterion Twitter account also tweeted this image of Kilcher being interviewed:
Pocahontas ten years later: Q'orianka Kilcher in Los Angeles. pic.twitter.com/SaoflP1n0c

— Criterion Collection (@Criterion) April 15, 2016
The four-disc Criterion set will come out July 26. Start saving your pennies.