Of Kings and Prophets — the series about David, Goliath and other characters from the first book of Samuel — may have been cancelled last month in North America after only two episodes had aired, but it turns out the series is still playing overseas.
A Google alert informed me today that the seventh and eighth episodes are currently streaming on a New Zealand website called TVNZ.
A banner on the TVNZ website states: "Of Kings And Prophets has been cancelled in the U.S. – but we will continue premiering it on TVNZ OnDemand."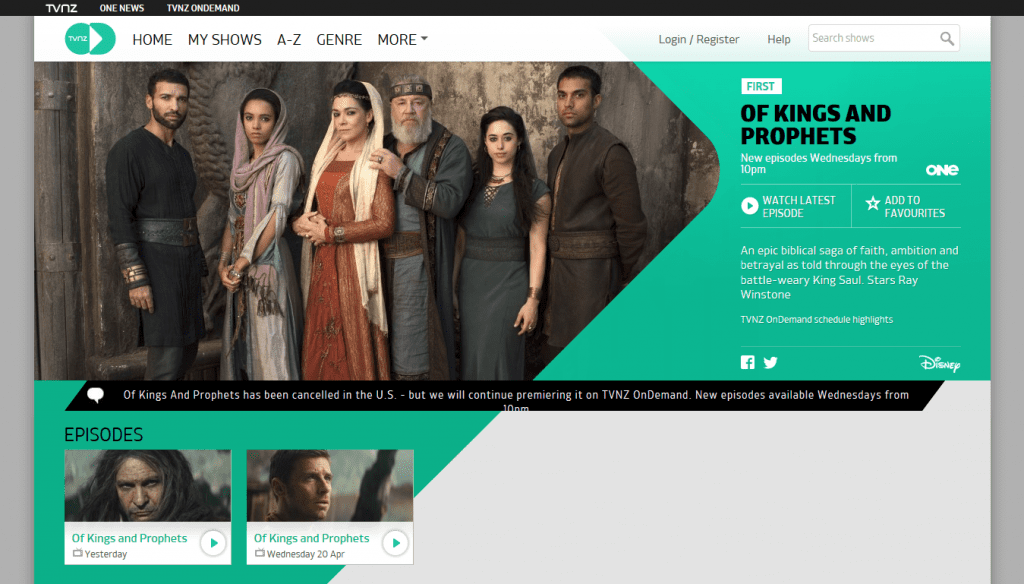 Alas, these episodes can only be streamed by people who are actually
in
New Zealand.
TVNZ only streams episodes for two weeks after they air on TV, which is why the first six episodes of the series are not featured on the website any more.
Curious to see who else might have the series, I snooped around and found a Russian website that currently has the first five episodes, all dubbed in Russian. I don't know how "legit" the website is, but I assume the dubbed episodes are genuine.
In any case, the key point here is that the series — at least nine episodes of which had been shot before the series was cancelled — is still out there, somewhere. It's airing on the networks of multiple countries. It's just not available in North America.
If I had known about the New Zealand airings sooner, I might have asked friends of mine there to DVR the series for me. As it is, I just hope the full series gets released on this continent at some point soon: streaming, DVD, I'll take whatever we can get.