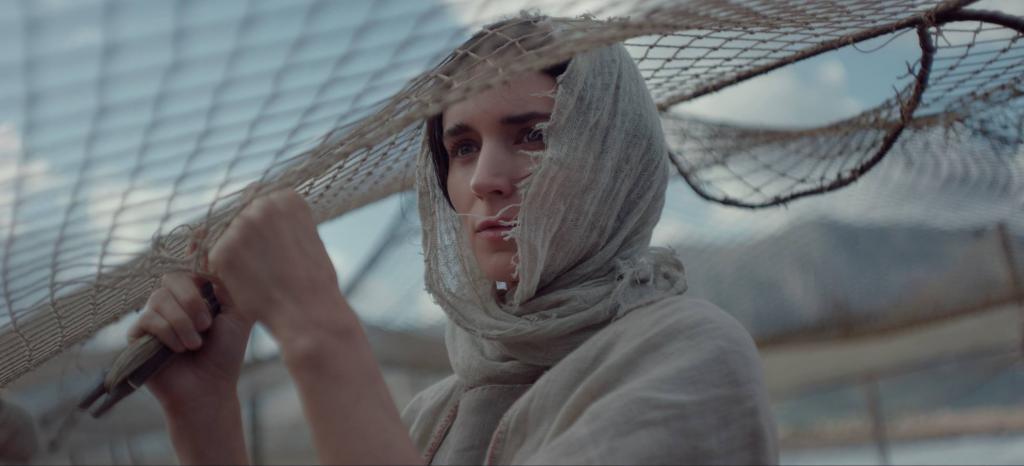 Mary Magdalene had its world premiere in London, England last night — director Garth Davis was in attendance, along with co-stars Rooney Mara (Mary Magdalene), Joaquin Phoenix (Jesus), Chiwetel Ejiofor (Peter) and Tahar Rahim (Judas) — and the reviews (which, alas, aren't that good) have started trickling in. Here's a sampling.
Guy Lodge @ Variety:
Hushed, deliberate and realised with considerable care and beauty, the resulting film has its heart entirely in the right place; its pulse, unfortunately, is far harder to locate. . . .

Jesus of Nazareth comes into Mary's life shortly thereafter, and she's swiftly enveloped in his kinder, more hopeful movement. "In the silence, is there something calling? Do you have the courage to follow what you hear?" he asks her. So she does, even if what we hear in the silence is mainly the swelling, swooning strings of Hildur Guðnadóttir and Jóhann Jóhannsson's unreservedly vast score — the latter's last, tragically, which rather heightens the hair-tingling effect of it all. Would that Mary's religious awakening had quite the same ecstatic effect in the film, but her interactions with Jesus are consistently wan: all breathy ruminations on pained spiritual questions, with little grounded, galvanizing passion between them. . . .

There's some gentle rearrangement of Biblical history, and a reframing of Judas Iscariot's narrative that works well in large part because Tahar Rahim, watchful and mournful in equal measure as Jesus's traitor, gives the film's most riveting performance by some distance.
Stephen Dalton @ The Hollywood Reporter:
Mary Magdalene is an uneasy viewing experience, ponderous and disjointed in places, but also crafted with conviction and a strong aesthetic vision. . . .

The key casting weakness at the heart of Mary Magdalene is Mara, her porcelain-doll beauty and laser-beam gaze failing to disguise her blank presence and narrow range. Hardly an ideal match for a role that demands screen-filling, history-changing charisma. Thankfully a heavily bearded Phoenix brings more firepower, playing Jesus as a doubt-wracked mystic-stoner cult leader somewhere between Charles Manson and The Dude from The Big Lebowski. His current run of meaty anti-star performances goes from strength to strength. . . .

Scripted by Helen Edmundson and Philippa Goslett, Mary Magdalene paints its superhuman heroine in too-saintly terms, Gifted with mystical healing and empathy powers for some unexplained reason, only she can offer Jesus effective emotional support as he slouches towards Jerusalem to face rough Roman justice. As the sole disciple to witness both his crucifixion and resurrection, Mary then becomes the official torchbearer for his compassionate humanist message. Theologians and historians will no doubt shred this interpretation to pieces, but it is an interesting fictional spin on a story that is already layered with multiple fictions.
Mike McCahill @ IndieWire:
Davis approaches his task with the same unimpeachable sincerity he brought to "Lion," aiming for a very specific patch of middle ground: to draw out those elements of this story that might be considered human and enduringly relevant, and to do so without incurring the wrath some brought down on Scorsese's "The Last Temptation of Christ." His film, accordingly, is Sunday-school tasteful, deeply politically correct, and informed by an evident level of scholarship – much ritual, sporadic speaking in tongue – even if it doesn't always easily translate into compelling action or credible behavior. These characters move in mysterious, even mystifying ways; as with a lot of faith-based dramas, you may feel as if you need to have The Book to hand. . . .

The unpredictable [Joaquin Phoenix] as [Jesus Christ] sounds promising, and Phoenix undeniably looks shroud-ready, Biblical mane, prophetic mien, and mystic gaze all very much in place. (In a film of prodigious face-fuzz, his beard would give Homeland's Saul a run for his shekels.) Phoenix scarcely radiates warmth, however, and his big oratorical moments are undermined by some affected speech patterns that a more experienced director might have stepped in and shut down. Instead, he appears smug and superior, a holier-than-thou hippie tutting through a first-wave toga party – the first Jesus outside the blasphemies of "Family Guy" to seem a little bit of a dick.
Peter Bradshaw @ The Guardian:
This movie, from screenwriters Helen Edmundson and Philippa Goslett and director Garth Davis, sets itself a bold task: to rescue Mary Magdalene from an age-old tradition of patriarchal condescension and misinterpretation. And yet it winds up embracing a solemn, softly-spoken and slow-moving Christian piety of its own. . . .

For all that the film revises our view of Mary simply by placing the narrative focus more on her, its more radical specific changes are actually connected with the men who are treated very leniently. Judas's motives for the betrayal turn out to be wrongheaded but not culpable and there are no thirty pieces of silver. Similarly, Peter's threefold denial has been abolished. The film suggests – quite persuasively – that the peace-loving and quietist message of Christianity was finally understood by Mary, but not the macho male apostles. But the drama's need to forgive Judas and Peter makes the story toothless. And the dreamlike vision of Mary Magdalene floating underwater is a bit of a cliche.
Fionnuala Halligan @ Screen International:
On viewing this clearly well-intentioned, attractive, wistful-to-the-point-of-inertia film, it's easy enough to see why Mary Magdalene has languished: if it's not exactly a hot-ticket for the Catholic faithful, neither is it something the arthouse might yearn to see. And if the casting of Joaquin Phoenix as Jesus seems odd, well, it is odd, as a glassy-eyed Phoenix looks to the heavens for inspiration, delivering sermons in his unmistakable American-accented voice. Rooney Mara – the palest fisherwoman the Middle East is ever likely to see – puts her all into playing Mary Magdalene as a drippy doe-eyed empath, awarded a stock-issue back-story in which her desire not to marry puts her at odds with her loving but uncomprehending family. . . .

Occasionally, the film flashes hot with stormy potential: moments when Mary veers towards madness, and Jesus spins between foresight and torment. The more real the film feels, the more Jesus and his followers look like a holy cult, the stronger it becomes. The miracles; the arrival in Jerusalem on Palm Sunday; the challenge to the money-lenders at the Temple – these are dramatically well-staged sequences that fully engage before the film drifts off in a cloud of New Age sentiment.
Jason Solomons @ The Wrap:
Jesus, played by Joaquin Phoenix with full beard and glaring eyes (much how he delivers most roles these days), baptizes his new follower in the Sea of Galilee that she '"may be awake for the days that follow." I reckon some audiences might need a bit of that, too.

Davis fails to find any drama or chemistry in the relationship, which is quite astonishing given it's allegedly the greatest story ever told (and given Phoenix and Mara are allegedly a real-life couple, too). Alas this version does not achieve greatness, lumbered as it is with a lot of mumbling Mediterranean accents from a cast of Greek, French and Israeli actors (including Ariane Labed, Tcheky Karyo, Denis Menochet, Lubna Azabal, Lior Raz, Hadas Yaron) and a script by Helen Edmundson and Philippa Goslett which necessarily contains lines like: "Of course I don't question the miracles, Judas." Not even actors of the stature of Chiwitel Ejiofor as Peter can make that sound right. . . .

A feminist slant on the Jesus story would also be welcome, of course. But I'm not sure how feminist a situation this could ever be: he thinks he's God … and so does she.
Linda Marric @ HeyUGuys:
Set in the Holy Land in the first century and staring Rooney Mara in the principal role, Mary Magdalene not only manages to be faithful to the widely received story of Christ, but also goes further by adding a beautifully nuanced female-centric narrative to a story many of us thought we already knew.
Mary Magdalene will screen at the Dublin International Film Festival tomorrow, and then it will open in European theatres on March 16 and in Australian theatres on March 22.
The film's North American release date remains in limbo.