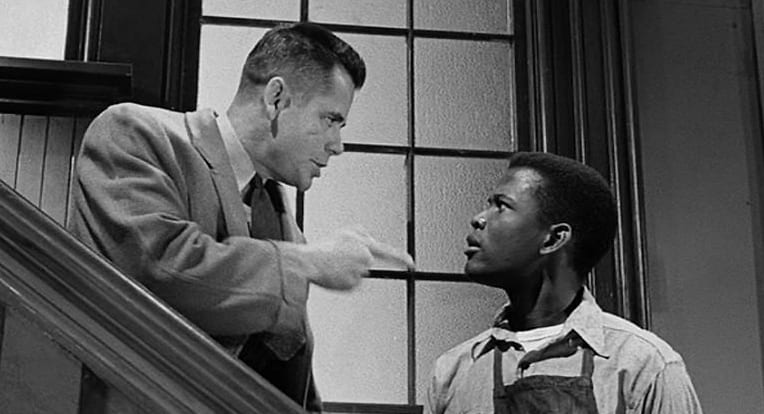 The latest in a month-long series of re-posts from my Facebook marathon in April 2020.
–
Sidney Poitier marathon part 3 (1955-1956):
Five years after his debut in No Way Out, Sidney Poitier finally got a breakout role worthy of his talents in Blackboard Jungle (1955). It's another supporting role — the film is primarily about Glenn Ford's character, a teacher dealing with rebellious (and, in some cases, criminal) students — but Poitier's charisma, as one of Ford's students, really leaps off the screen here.
Poitier was 28 when the movie came out, but he's just about believable as a teenager from his earliest scene, as one of two guys caught smoking in the boys' room. It was only at the very end, when he puts on an overcoat while talking to Ford, that he really came across to me as a guy in his late 20s.
The film famously uses Bill Haley's 'Rock Around the Clock' over its opening and closing credits — it was the first film to use rock'n'roll on its soundtrack — and one of Ford's colleagues, a teacher played by Richard Kiley, is proud of his collection of rare swing records. But if the pop-culture references seem a little dated after 65 years, the racial politics are as strikingly relevant as ever.
Not only does Ford oversee a racially diverse class and chastise them for their use of racial slurs, but one of the students reports him to the authorities because he used the actual slurs (yes, he used them as examples of words that should not be said, but still, he used them!).
And, interestingly, Ford immediately assumes that Poitier is the student who snitched on him, and when he confronts Poitier over this, he gets so frustrated that he defaults to using a slur himself; he catches himself before he finishes his thought, but he says enough — more than enough — to undermine the positive example that he's been trying to set throughout the rest of the film.
As one of the rebellious students, Poitier has a lot more in common here with the resentful soldier he played in Red Ball Express than he does with the noble doctor he played in No Way Out. But he's also the student that most of the other students look up to, and Ford privately appeals to him for help: Poitier, says Ford, is a natural "leader" and the other students would follow him if he set a better example. It's not hard to see a parallel between this and the way the real-life Poitier would be held up as a positive role model in the 1960s.
The real villain of this film is a teenaged gangster played by Vic Morrow (who was 26 years old when the film came out). Morrow is now best-known, perhaps, for being the father of Jennifer Jason Leigh and for being one of three actors killed on the set of 1983's Twilight Zone: The Movie, but in this, his first movie, he makes quite an impression as a guy who struts and snarls his way through most of his scenes (I was reminded of Joaquin Phoenix, actually), and who ultimately wields a switchblade against Ford in the climactic classroom confrontation.
A few other quick points:
— When Ford first arrives at the school, the tough guys are hanging around outside the front door, listening to swing music and… dancing with each other? Interesting.
— There's a really bracing scene early on in which a student tries to rape a new female teacher in the library. The rape attempt is thwarted by Ford, a World War II vet who can more than handle himself against belligerent teens, at least when they don't outnumber him.
— Ford plays an animated cartoon in class as a way to get the kids thinking about social issues (is what the character did stealing?, etc.), and when a teacher challenges him on this, he says movies can get kids' minds off of comic books!
— The reel change at the 95-minute mark happens right in the middle of Ford's character facing off against the Morrow character, and for a split second, after the "cigarette burn" appears in the corner of the screen — after Ford has walked right up to the camera in a tight close-up — we see Ford relax and look to the side as though the director has just yelled "Cut!", but then, when we cut to the other angle, Ford is still looking straight at Morrow, and both of them are still in very tense poses. I am surprised that those extra few frames of Ford breaking character were left in the film at every stage along the way, from the preparation of the original film reels to the film's digital remastering.
— There are quite a few other actors I recognize here, including (of course) some with a Bible-movie pedigree. The principal is played by John Hoyt, who played Elijah in 1953's Sins of Jezebel and the doctor in Star Trek's first pilot episode; the teacher with the swing collection is played by Richard Kiley, who played Claudius in 1985's A.D. Anno Domini and Matthew in The Visual Bible's Gospel According to St Matthew; and a mentally challenged student is played by Jamie Farr (credited under his birth name Jameel Farah), who is best-known now for playing the cross-dressing soldier in TV's M*A*S*H but also played a disciple in 1965's The Greatest Story Ever Told (a film that also featured Poitier!). Oh, and future director Paul Mazursky is in here too, as one of the students.
— And of course, it's really fascinating to watch this film if, like me, you grew up knowing Poitier as the teacher who has to deal with rebellious students of his own in 1967's To Sir with Love, which came out only 12 years later. Talk about role reversals!
Reportedly this was the film that first got Poitier really noticed, but it took a couple years for him to make his next major appearance on the big screen. (Given how long it can take to produce and distribute a movie, it can take a while for new career opportunities to be reflected onscreen.)
The only movie Poitier appeared in the following year was Good-bye, My Lady (1956), which stars Walter Brennan and Brandon De Wilde (the kid from 1953's Shane) as an old man and a boy who adopt a stray rare dog — and Poitier appears in maybe just three scenes as one of their neighbours. So there's not much to say about his role in that film, here. (Phil Harris, who went on to voice the singing bears in Disney's The Jungle Book and Robin Hood, has a much more prominent role in this film.)
But more roles were coming Poitier's way. Between 1950 and 1956, he never appeared in more than one film per year, but in 1957 he would appear in no fewer than four…
–
The image above shows Glenn Ford and Sidney Poitier in Blackboard Jungle.