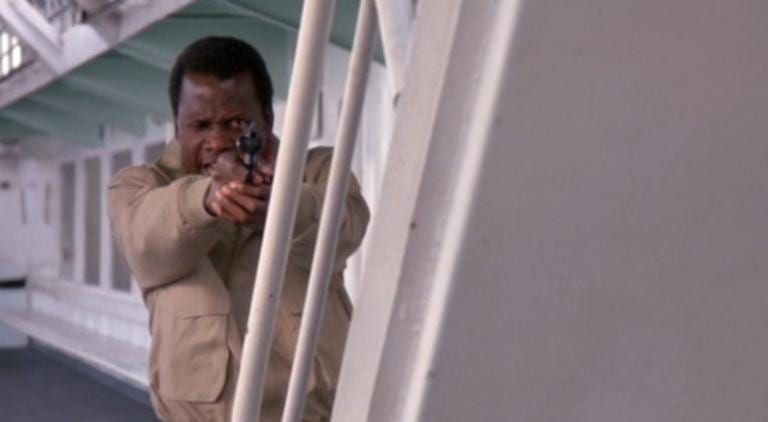 The latest in a month-long series of re-posts from my Facebook marathon in April 2020.
–
Sidney Poitier marathon part 19 (1988):
After taking a break from acting for more than a decade, Sidney Poitier returned to the big screen in two movies — both of which, coincidentally, cast him as an FBI agent.
Alas, the first of these films, Shoot to Kill (1988), is an utterly generic cop-chases-criminal movie with none of the social significance of Poitier's earlier films. The villain is a guy who has stolen some diamonds and killed some people, and that's it; he's not motivated by politics or racism or anything else that might give the film a little more oomph.
The film is more interested in setting up a contrast of sorts between city people and country people. The villain infiltrates a group of hikers near the Canadian border, and Poitier teams up with a mountain guide played by Tom Berenger to try to catch the killer before he gets away — and of course, the big-city cop and the country-dwelling mountain guide get on each other's nerves. Poitier is constantly surprised by the animals he encounters, both wild and domesticated, while Berenger, who has his own reasons for wanting to catch up with the hikers, thinks the cop is just slowing him down.
Shoot to Kill may be a run-of-the-mill potboiler, but it's a special film for people in my neck of the woods because it's one of the very few American movies that was not only shot in Vancouver but allows Vancouver to play itself — albeit with some cosmetic changes.
The film also holds a special place in my heart because the script for this film was the first screenplay I ever read before the movie in question came out. (I worked at Regent College as a video-camera operator in the summer of 1987, and my supervisor did the video playback on this film.)
If memory serves, the script I read was called Mountain King, and I remember noticing how different pages were printed on different-coloured paper, to signify which sections of the script came from which rewrites. I also remember that there was a note in the script announcing that "RCMP" or "Royal Canadian Mounted Police" had been changed to the fictitious "BCPF" or "British Columbia Police Force" — and sure enough, that's what we see in the film. (Apparently the real-life RCMP objected to the way the film depicted them as "bungling idiots" participating in "illegal activities".)
As it happens, the film came out while I was going to Bible school in Saskatchewan, and I remember going into Saskatoon just to see this movie, and enjoying the glimpses of my home city. I did not see the film again until now, for this marathon. In the interim, I had totally remembered that the film climaxes with a shoot-out at Robson Square, which I still think about whenever I walk through that block. But I had forgotten that the shoot-out is followed by a car chase which leads to the Seabus terminal — you can see Canada Place very clearly in one shot (this movie was filmed mere months after Expo 86) — and that the cars then end up at the BC Ferries terminal in Tsawwassen, which is ridiculous, as that would easily be up to an hour's drive away, depending on traffic. I guess someone figured, "Eh, boats are boats"? I will concede at least that the final foot-chase and shoot-out on the ferry needed a lot more space than the Seabus would have provided. (Incidentally, the ferry we see is the Queen of Vancouver, which has been in service since 1962.)
Anyway. If watching the film 32 years ago gave me a glimpse of home, watching it now gave me a glimpse of my city's past, as the car chase zips past the storefronts for Odyssey Imports and Albion Books (the latter of which still exists, but in a different location I think).
Other fun Vancouver bits: We see (and hear) the 12 O'Clock Horns, which blare the first four notes of 'O Canada' every day at 12 noon; when the film was made, the horns sat on top of what was then called the BC Hydro building, but since 1994 they have sat on top of the Pan Pacific hotel at Canada Place. A police chief also says that someone they want to interrogate lives in "British Properties. Very expensive neighbourhood."
(Incidentally, the police chief is Asian-Canadian, and Wikipedia notes that British Properties — which is in West Vancouver, not Vancouver itself — used to explicitly prohibit people of Asian descent from living there, but it has since become so valuable that it has attracted a lot of investors from China and Iran. I wonder when the RCMP got its first superintendent of Asian descent? Before or after this film was made?)
A few other quick points:
— The film wasn't merely shot in Canada; at least some of the key creative personnel came from here too, including director Roger Spottiswoode (who went on to direct the James Bond movie Tomorrow Never Dies) and co-writer Daniel Petrie Jr (whose father directed Poitier in 1961's A Raisin in the Sun — is that why Poitier agreed to star in this movie?). Wikipedia says the younger Petrie "is best known for pioneering the sub-genres of action comedy and buddy cop films through films like Beverly Hills Cop and Turner & Hooch," and, well, this film certainly qualifies.
— This is at least the second Poitier film to take place in the Pacific Northwest, following 1965's The Slender Thread, which was set in Seattle and featured a fisherman who sometimes worked near the BC coast.
— The opening scenes are set in San Francisco, which is also where the last two Mister Tibbs movies took place. For some reason the villain heads all the way north to Canada instead of going south to Mexico, and the FBI traces him because he has a habit of shooting people in the eye.
— The mountain section of the movie begins near a place called "Bishop's Falls, northwest of Spokane". Does such a place exist? Google indicates that there is a place called Bishop's Falls in the state of Washington, but it is in Lewis County, south of Seattle. Most of the search results for "Bishop's Falls" refer to a place in Newfoundland.
— We're not supposed to know which of the hikers is the villain until about an hour into the movie. It turns out to be Clancy Brown, who had previously played the bad guy in 1986's Highlander. But another strong contender is the guy played by Richard Masur, a veteran of 1982's The Thing (which was also filmed in British Columbia!).
— Berenger's girlfriend — and Brown's hostage — is played by Kirstie Alley, who had just joined the TV show Cheers a few months before this film came out. She, too, starred in other Vancouver-made movies, including 1983's Runaway and 1989's Look Who's Talking and its sequel.
— One of the mountain-dwelling characters says Alley is Berenger's "partner, I guess you'd call them." So terminology like that was still kind of new, still took some getting adjusted to, back then. Poitier's character, for his part, has a "girlfriend".
— Berenger is practically offended by all the trappings of city life that Poitier brings with him, including "battery-powered heated socks, the latest thing," as one character calls them. I have no idea when they first came on the market.
— Poitier scares off a bear by making a lot of weird faces, and then tells Berenger, "Everyone else around here acts like they've never seen a black man before. Why should a bear be different?" But we never really saw anyone act weird around Poitier because of his race prior to that scene — unless the guy who kept asking if Poitier was "really a G-man" was asking because of Poitier's race? (I assumed he was asking because he was a living in a remote part of the country and had never seen a federal agent before.)
— Poitier and Brown get into a fight on the ferry and accidentally knock open a gate, which leads to them falling off the boat and into the water. I would hope that those gates are locked a lot more securely in real life!
— Is this the first movie in which Poitier says "shit"? (The word had been used in other films that he starred in and directed, but not, I think, by him.)
— Poitier turned 61 the week after this film came out. His character's age is never given, but he says he's been with the FBI for 22 years.
— This time in LGBT references, maybe: Poitier and Berenger stay warm in the snow by huddling together in a sleeping bag, and Berenger teases him by saying, "You heard about us country boys, right?"
Poitier then played another FBI agent in Little Nikita (1988), which was the first of two movies he made with River Phoenix.
In this film, the FBI agent played by Poitier befriends Phoenix because a Russian assassin has gone rogue and started bumping off Russian sleeper agents in the United States — and Phoenix's parents, unbeknownst to Phoenix, are two of the agents the assassin is coming for.
The film is kind of fading from my mind already, but I'll give it this much: Thanks to the Cold War premise, it has a real-world resonance that is missing from Shoot to Kill.
A few other quick points:
— Little Nikita was actually filmed before Shoot to Kill, but it arrived in theatres about one month later. So Little Nikita was arguably Poitier's true "comeback" movie.
— Going by release dates, this was the last theatrical feature to give Poitier top billing.
— Little Nikita has other parallels to Shoot to Kill, besides casting Poitier as an FBI agent: there is a fight on a boat, a glimpse of the American border (on the Mexican side this time), a reference to Spokane (Phoenix's parents took their American names from headstones on a cemetery there), a reference to Vancouver (when a Russian refers to "our man" there), etc.
— Poitier's FBI agent is based in San Francisco in Shoot to Kill, and in San Diego in Little Nikita.
— This was only the second Poitier film to have the Cold War as its central premise, following 1965's The Bedford Incident. (I guess 1960's All the Young Men arguably fits the bill too, inasmuch as it's a Korean War movie, and the Korean War was part of the Cold War.) At one point Gorbachev, who began leading the Soviet Union in 1985, appears on TV, and one of the Russian characters says Gorbachev is an improvement on Breshnev, who died in 1982.
— This was one of two 1988 movies in which Phoenix played the son of someone being tracked by the authorities. In Running on Empty, which came out six months later, Phoenix's parents were radical 1960s activists.
— Phoenix's father in this film is played by Richard Jenkins, who has been in lots of movies but did not become particularly famous until the last couple decades; he was nominated for an Oscar for 2007's The Visitor.
— At one point Phoenix walks in on Poitier while the latter is in bed with one of Phoenix's high-school teachers. Poitier was 61 when the film came out, while the actress who played the teacher, Loretta Devine, was 39.
— Phoenix's character is 17 years old. Phoenix himself was 16 when the film was shot in late 1986 and early 1987, but he was 17 by the time the film came out in 1988.
— This time in LGBT references: Phoenix tells Poitier the last guy who kept running into him "accidentally" was a gay country-club waiter named Maurice, and he asks if Poitier is gay, too. The last time someone asked if a Poitier character was gay was in 1968's For Love of Ivy.
–
The image above shows Sidney Poitier on the Queen of Vancouver in Shoot to Kill.