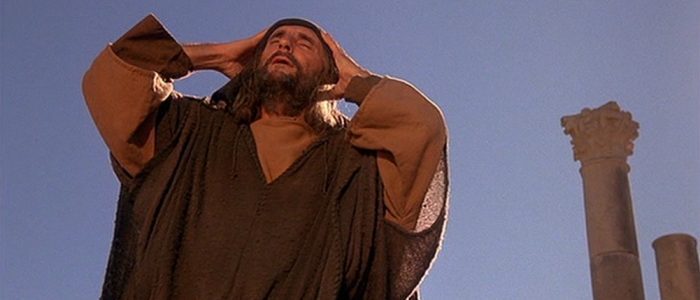 Filmmakers have always been interested in Jesus, but lately there's been a renewed focus on the apostles who followed him. Two, maybe three, projects in that vein have been announced in recent weeks, and they appear to be coming from very different perspectives.
First up: Paul Schrader, writer-director of such films as First Reformed and Dominion: Prequel to The Exorcist, revealed in an interview with The New Yorker yesterday that he is developing a series about the apostles with his old pal Martin Scorsese — but it won't be following the traditional account from the book of Acts:
Have you ever entertained the possibility of working for a streaming service directly, whether a feature film or a series?

Yeah. Well, Scorsese and I are planning something, and it is . . . it would be a three-year series about the origins of Christianity.

Fiction? Drama?

No, no, no. It's based on the Apostles and on the Apocrypha. It's called "The Apostles and Apocrypha." Because people sort of know the New Testament, but nobody knows the Apocrypha. And back in the first century, there was no New Testament, there's just these stories. And some were true, and some weren't, and some were forgeries.

But these will be dramatized like "The Last Temptation"?

Yeah.
Given that Schrader and Scorsese previously collaborated on the famously controversial 1988 film The Last Temptation of Christ — which, among other things, took a very dim view of the apostle Paul, who in Schrader's view not only wrote most of the canonical epistles but wrote or edited the canonical gospels as well1 — it will be interesting to see how this series tries to go back to a time before the writing of the New Testament.
Schrader does not say which streaming service this series is being developed for, but it is known that Scorsese signed a first-look deal with Apple TV last year.
Meanwhile, Mark Burnett and Roma Downey have both revealed — while promoting Resurrection, a feature-length re-edit of their Acts-themed series A.D.: The Bible Continues — that they are working on at least one more project about the apostles.
In a Q&A following an online preview screening of Resurrection in March, Burnett said a film called The Disciples — which I assume is essentially a re-packaging of the A.D. episodes that Resurrection did not include — was already in post-production in London. (I have not seen this reported anywhere, but I was taking notes during the Q&A.)
And then, in April, Downey told Fox News they were going to "start shooting" another biblical project later this year:
Downey: . . . We have another biblical movie coming down the pipeline. So we have lots of things we're working on together. We're actually going to start shooting at the end of the summer… This is just what we love to do and it gives us so much joy. We're so passionate about it.

Fox News: What's one story from the Bible that you would love to tell at some point and why?

Downey: Our next film that we're currently working on will take us deeper into the Book of Acts. It's very exciting.
It's not clear to me what "our next film that we're currently working on" is a reference to; it could be the film that they're "going to start shooting at the end of the summer", or it could be the Disciples project that Burnett said was already in post-production.
Either way, it looks like we'll be seeing more of the apostles in our cinematic future.
By the way, what ever happened to that "cinematic universe" of Bible stories that The Erwin Brothers were going to make, starting with Apostles: Resurrection of Christ?
–
1 From Kevin Jackson, ed., Schrader on Schrader (Faber & Faber, 1990), page 3: "I had a very strong fixation on St Paul; in fact I was more interested in Paul than in Christ. In some ways what we believe today is Paulinism. Christ is like Socrates: a mysterious figure we only know about through Plato, just as we only know about Christ through Paul. Paul had his hands in all the Gospels. There's good reason to believe he wrote Luke and he supervised the rewriting of the others."
–
The image above is of Paul (Harry Dean Stanton) in The Last Temptation of Christ.