by Alexei Laushkin
Every year since I've been in DC, I have made it a point to join the March for Life.
I m pro-life, because I believe that every life ought to be brought into this world. I don't believe that Christians can or should end a developing life. For those outside of faith, I would like to see incentives and measures that would help facilitate the life of a child.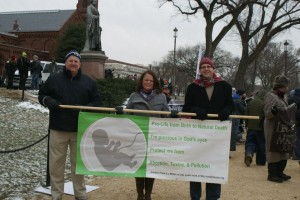 I know at times there are difficult circumstances that often compel abortion, but we need to do everything we can to reduce the number of abortions in America. Too many choose to end the life of their child. This is especially true for children that are identified as being likely to have developmental disabilities. Many parents choose not to have those children.
We lose what God has for us, whether we're a Christian or not, when we deprive ourselves of our own children. Abortion is a national tragedy and days like today ought to be marked.
I'm also pro-life from womb to tomb. I believe in a consistent ethic of life. As such I believe that the unborn should be protected from toxins and pollution that they are in no way responsible for. I am a signatory of the Joint Declaration on Life which is signed by pro-life evangelicals and Catholics. The statement states:
science is increasingly documenting the damage done by environmental toxins to human life from the moment of conception—and even before conception—throughout all stages of development and growth.
I also want to recommend this blog post by Rev. Mitch Hescox on the connections between celebrating abundant life and actually coming together and doing something on behalf of our children and the unborn when it comes to abortion, climate change, and a whole host of critical matters.
We need to better by future generations.
At some point our personal freedom needs to turn into responsibility and the joy that comes with celebrating the life and health of a child.