When I was 17 the first painting I sold was to Mrs. David Rockefeller at my first art show. This was in New York City at the Frisch Gallery. Next came a show in Switzerland at the Chante Pierre Gallery in Aubonne (near Geneva) and a show in London soon after. Then I quit painting because there was more money and power and ego in selling Jesus. I was an idiot! I started painting again about 10 years ago. Here's some of the new work.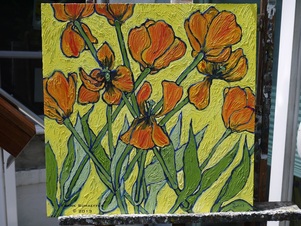 (Tulips, Wind & Sun Oil on canvas 24 x 24, 2013)
When I quit I traded my brushes for the world of big time American right wing religion, and became my Dad's sidekick on the evangelical circuit. In 1980, when my wife Genie and I were about to move to America from the mission where my American parents raised me in Switzerland, I had to pack up everything in my studio. It was as if I was packing the belongings of a beloved relative who died six years before. I hadn't touched a brush since 1974. Everything was lying just as I'd left it when I followed Dad into a life that changed everything for me and made me almost forget who I had once hoped to be.
There was an unfinished painting still on the easel. As I packed up dozens of tubes of paint, jars full of brushes, my woodcut blocks, sketch pads, charcoal and pencils I tried not to look at anything too closely. After we got to our new home in America I left everything in the boxes. It was over thirty years before I unpacked my paints. Before that I hadn't had the courage to face the evidence of my treason. Abandoning painting made everything else I was doing seem half-assed until I had worked hard enough at my "secular" writing to feel that I had rehabilitated myself.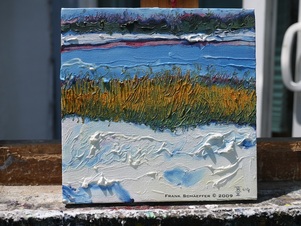 (Happy Winter River Oil on canvas 8 x 8, 2009)
Genie once asked me if I was ever going to paint again. I answered, "I made one false start, I want to be good at something. I'm sticking with the writing for now." But once I had four novels published, and four non-fiction "secular" books too and several even became bestsellers, it was as if I'd built a wall to keep out the memories of those evangelical pieces of propaganda I'd written so badly and hastily, and the crappy movies I'd made in Hollywood after I fled the God business for the "B" movie business – a story I tell in my new book And God Said, "Billy!" exploring the roots of American religious delusion, and offering another way to approach true spirituality. That was when I decided I could unpack my art supplies. When I did I felt as if the brushes, unused canvases, paints and the old crusted palette were shouting, "Where the fuck have you been!"
Most of the thirty-year-old tubes were still okay. I dragged my old easel out of the barn and set it up in the renovated woodshed attached to our house. I write at one end of the room and paint at the other. I write every day, seven days a week. And sometimes I paint. Not every day, but fairly regularly.
Now I have enough new work to show. It is very different in every way from the old work. I enjoy it and so do some other people. I've been offered a show in San Francisco next year. And now I had my friend Hal Fickett put together a simple art website so I can show the work to friends and to anyone else interested.
Yes, I want to sell the work. But mostly I just would like some validation that though I'm missing years of work, am now 61 and have less ahead of me than is in the past that maybe the work will give as much pleasure to others as it gives to me! I hope so. Please take a look HERE!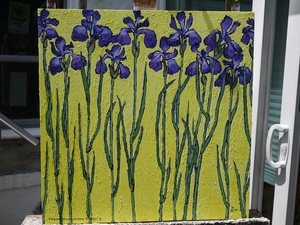 Iris Meditation Oil on canvas 24 x 24, 2013 SOLD
Follow Frank Schaeffer on Twitter: www.twitter.com/frank_schaeffer
See Frank Schaeffer's paintings HERE!
Follow Frank on Facebook HERE
Frank Schaeffer is a writer. His latest book — And God Said, "Billy!" exploring the roots of American religious delusion, and offering another way to approach true spirituality, is on Kindle, iBook and NOOK for $3.99, and in paperback. It spent 8 weeks as Amazon's #1 best seller for Political Humor.