Alicia Machado was bullied, insulted and disrespected by Trump as a woman, as a Hispanic and as someone who (to him) represented the faceless, meaningless "housemaid" working class. In her run in with this vile man Machado has exposed a fact: to vote for Trump you are either a male woman hater or a self-loathing woman. Her "case" (one of many) is where everything Trump is and isn't comes together.
As the Washington Post reported, "Since the late 1990s, all that most people who are aware of Machado have known about her is that she was crowned Miss Universe in 1996, tangled with Trump over her weight and then moved on to a career in TV and movies.
The Clinton campaign viewed Machado's experience with Trump behavior as so damning that Monday night, the campaign released a new commercial — almost a short documentary — featuring Machado. Speaking in Spanish, Machado described Trump as a man filled with grudges, racism and frightening anger, a man who contributing to her struggle with an eating disorder and, in keeping with another Trump critique Clinton raised on the debate stage, the owner of the pageant which did not pay her what she was due under the terms of her contract.
Trump's response was on, "Fox and Friends." He said: "That person was a Miss Universe person, and she was the worst we ever had. The worst, the absolute worst. "She gained a massive amount of weight, and it was a real problem. We had a real problem. Not only that, her attitude, and we had a real problem with her, so Hillary went back into the years and she found this girl."
In both angry conversations and casual ones, Trump referred to Machado as "Miss Piggy," "Miss Housekeeper," and "Miss Housekeeping," who should know her place and do as she was told. He said it to her face. And he said it to Miss Universe staff.
Machado, comes from an extended Venezuelan family. She left college to compete for the crown and pursue what she hoped would blossom into a career in the U.S. As the Washington Post notes: "Trump purchased the Miss Universe pageant just in time to become her boss. All Machado knew was that Trump, a wealthy American businessman, had big plans to boost the pageant's profile and profits."
In Trump, Machado found herself in the hands of an insensitive bigot, a misogynist who seemed to view the pageant and pageant contestants alike as his personal female property.
Said Machado to the Post: "It was a nightmare I wouldn't want my daughter or any other little girl in this country to ever, ever encounter. This man behaved like a tyrant when I was Miss Universe and has behaved like a potential despot during this campaign. He lacks the basic skills to govern and is not a good human being."
Over the course of the year that Machado held the Miss Universe title — and, as Trump often reminded her, worked for him — she would feel intense pressure to shed the weight pounds Trump told many, many television reporters, viewers and magazine readers that Machado had gained. He considered it an outrage, a potential violation of her contract. That in turn prompted officials with the Miss Venezuala pageant system to also comment on Machado's weight in both the English and Spanish-speaking international press.

The only upside that Trump could see: potential weight-loss related endorsement deals for Machado. Under the terms of her contract, The Miss Universe organization would get the majority cut. To drum up interest and keep the press focused on Machado's weight, Trump set up a workout with a trainer at a Manhattan gym. When Machado arrived, the trainer, Trump and a bank of mostly male reporters and photographers were waiting. Trump insisted that she follow the trainer though a full workout. As Machado did jumping jacks, sweated her way though the trainer's routine and rode a stationary bike, the photographers stationed just a few feet way snapped pictures and made comments, she said. Some of the footage of this moment appears in the new Clinton ad.
Soon, Machado felt so desperate to shed the weight she both binged and purged food habitually. Machado continued to struggle with bulimia for years.
Mocking the women who clean his hotels Trump called her 'Miss Housekeeping' "because she was Latina,"
In both angry conversations and casual ones, Trump referred to Machado as "Miss Piggy," "Miss Housekeeper," and "Miss Housekeeping," who should know her place and do as she was told. He said it to her face. And he said it to Miss Universe staff.
When Trump declared that he would compete for the White House and, in the same speech, described illegal Mexican immigrants are "rapists" and "criminals," Machado was sickened. So Machado joined Clinton supporter Delores Huerta at a press conference where she explained that her concerns. "He is a danger to this beautiful country," Machado said, "which I love, and feel an obligation to protect from men like Donald Trump on behalf of my daughter, on behalf of women, mothers, Latinas like me. He is a threat to democracy."
"He can't be a president of the United States of America," Machado told The Guardian in an interview published Tuesday.
It is a name Trump will not be likely to forget. Clinton's campaign reinforced the point after the debate, releasing a video featuring Trump's comments about Machado.
I'm a worker, I'm a mother … I have a family, I have a career, I have a business and, you know, if my story can open eyes for this election, that is what I'm trying to do."
Trump, who has admitted that he told Machado to lose weight, would not back down. When he loses the presidential race call this karma payback for the pig-filth-move Trump put on his victim of the day when during one workout, he ambushed her with TV cameras.
"I was in some gym in New York like a mouse," Machado told The Guardian, reflecting on the ambush. "'Look at that mouse: how she run, how she jump, how she make exercise.' Like that. In that moment is when … problems come to me and start."
told reporters in Spanish
that she hopes her experience will motivate more people to vote against Trump. If it doesn't than rest assured we'll know Trump's supporters are pig "men" and self-loathing women. Period. And that goes for Jill Stein and Gary Johnson voters too who are opening the door to this reckless loser because they don't like Hillary. Only a self-loathing woman could vote for Jill Stein or Gary Johnson thus risking handing the presidency to the classless woman-hating pig Trump. For that matter the same is true of all voters: You have to hate the "Housemaid" working class to vote for anyone but Hillary.
"I never thought, and I never imagined then 20 years later, I'll be in this position … watching this guy again doing stupid things and stupid comments,"Machado said.  "I'm not beauty queen, I'm not Miss Universe anymore. I'm a worker, I'm a mother … I have a family, I have a career, I have a business and, you know, if my story can open eyes for this election, that is what I'm trying to do."
P.S. If you want to know a little more about where I'm coming from and my perspective on politics, religion and the intersection of faith and life– here's a new movie about me. (It's below the poster on YouTube) scroll down and watch it for free…
WATCH "Let me be FRANK" HERE:
Follow Frank on Twitter www.twitter.com/frankschaeffer
See Frank's paintings http://www.frankschaefferart.com/
Follow Frank on Facebook https://www.facebook.com/frank.schaeffer.16 Contact Frank at http://www.frankschaeffer.com
Frank Schaeffer is a writer. His latest book —WHY I AM AN ATHEIST WHO BELIEVES IN GOD: How to give love, create beauty and find peace
Available now on Amazon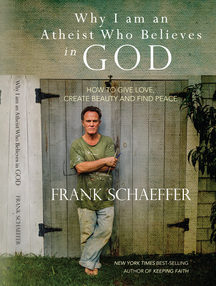 On Tuesday, she