Jonathan Cottrell is a long-time friend. He has attended my premium mentoring program for people in ministry (now called The Insurgence Experience), he's been a member of the The Deeper Christian Life Network from the beginning, and he was trained by our SCRIBE training for authors (which is now all online).

As a result of the latter, he landed a book deal from a major publisher and just released a new book called Do Nothing: The Simple Principles of Jesus to Accomplish Anything.
I caught up with Jonathan recently to discuss his new book.
Enjoy!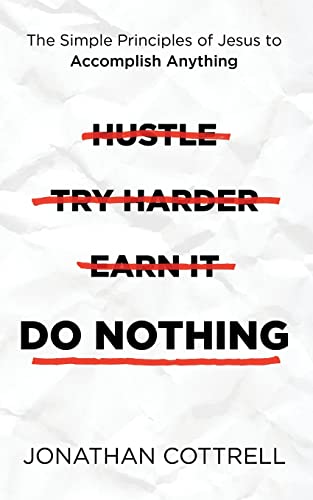 Right off the bat, let's address the elephant in the room. Your book title runs fairly counter to today's common messages, even within the church. So, when you say "Do nothing," what do you really mean?
While I love a good, provocative title as much as anybody, I admit that the book's message isn't actually about doing nothing. It's about working to embrace the truth that Jesus laid out in John 15, when he told his disciples that we are like branches that can "do nothing" apart from the Vine, which is Christ. I've found that to be an interesting challenge, though.
So, to answer your question, this book wrestles with what doing nothing apart from Jesus looks like in practice. I pray it helps Christians of all types—especially doers like me—embrace the spiritual principles of faith, rest, partnership, discernment, and hope that our Lord lived by during his ministry on earth.
In the book, you address these spiritual principles by asking five questions. What are those questions and where do you find their biblical support?
Thanks for asking. Ultimately, I agree with the mathematician, John Tukey, who said, "An approximate answer to the right question is worth a great deal more than a precise answer to the wrong question."
There are five main questions I pose in the book, supported by five key scriptures, and concluding with an opportunity for personal reflection at the end of each section.
"What can I do," based on what Jesus says in John 15:5?
"How do I do nothing," according to Hebrews 4:11?
"What is Jesus doing," if we are to live like Christ says he did in John 5:19?
"How do I work with Jesus," as laid out in Ephesians 2:10?
"What is God's plan for me," if we truly trust Philippians 1:6?
I know that these questions have revolutionized my own life, and I'm looking forward to hearing how the Holy Spirit uses these questions in other people's lives, too.
It sounds like this book was forged through answering those questions the hard way. What led you to writing this book?
Well, as your most recent book, Hang On, Let Go, very accurately portrays, you know that adversity is the birthplace for God to do some of his most precious work in us. The same was true for me. As someone who has long described myself as a "serial starter," it's clear to me (in hindsight, of course) that the Lord had to let me come to the end of myself before something like this book could be written.
In what felt like a cataclysmic period in my life, just about everything that could go wrong went wrong. Health, relationships, finances, ministry—you name it, and it unraveled. During that period, I prayed, "Lord, I don't want you to waste one drop of this in my life. Please, have your way in me." In my experience, God answers such prayers. And here we are, he used it. And I trust he will continue to do so.
What will people take away from reading this book? 
I'm sure everyone's going to get something a little different from the book, as it truly is about spiritual principles, not a prescription. Personally, I don't think that Jesus gives us a formula for living, he provides a way. He is the Way, in fact, so at the end of the day, I simply hope that people come to rely upon Jesus more fully.
That said, if I had to boil it all down to one sentence, I pray that people learn how to peacefully rest, better discern, and calmly walk forward in the completed work of Jesus. Wouldn't that be amazing?
What does "doing nothing" look like in your own life? 
I can't give away all the good parts of the book, of course. Ha! But I can tell you that Brother Lawrence, a 17th century monk behind the Christian classic, The Practice of the Presence of God, was certainly one inspiration. That book describes one of Lawrence's prayers going something like, "Lord, I will never be able to do that if You don't help me." And it wasn't just for big tasks he would pray that; it was for simple things like doing the dishes and making omelets.
I've learned to take a similar approach in my life. Because, as my book explains, Jesus didn't say that we "should" do nothing apart from him, but that we "can" do nothing apart from him. I have difficulty accepting that at times, but practicing prayers like Brother Lawrence's is one of my feeble attempts at taking Jesus at his word and trusting God for the strength to do absolutely anything.
In your book, you also describe how this message might be misapplied if taken to the extreme. Can you share a bit about that?
You're right, that's an important point. I definitely don't intend for the book's title to be taken to its literal interpretation—though I'm sure I'll be blasted by somebody online who's read no further than the subtitle. That's okay, though, I might have even been one of my harshest critics in a past life, too.
I spend more than a few chapters articulating what I believe doing nothing apart from Christ doesn't mean. It certainly doesn't look like requiring some heavenly answer to mundane daily questions and consulting God about every little decision we have to make. In my opinion, that's immaturity in Christ, not maturity.
God has given us scripture, Godly counsel, wisdom, even our own instincts, so it's important that we consider all of the Lord's sources to pave our path forward, not just those we might consider "more" spiritual than others.
Where can readers learn more about "Do Nothing" and get a copy of the new book? 
Thank you, Frank. Do Nothing: The Simple Principles of Jesus to Accomplish Anything is available for purchase at people's favorite bookstores, and everybody can learn more about the book by visiting ICanDoNothing.com.
I should also mention that anyone who buys the book and shares a proof of their purchase on my website will receive some solid, exclusive additional content, too, including a small group study guide, a 30-day detox for doers, and some other goodies.
Relevant links:
Official title — Do Nothing: The Simple Principles of Jesus to Accomplish Anything
Dates — Available for purchase July 12, 2022, available for pre-order now
Media kit — pictures of the book cover and author
ICanDoNothing.com — about the book, where purchases can be made
JonathanCottrell.com — about the author