The ESV Topaz Reference Bible Goatskin Leather, Dark Blue edition published by Cambridge is an amazing Bible.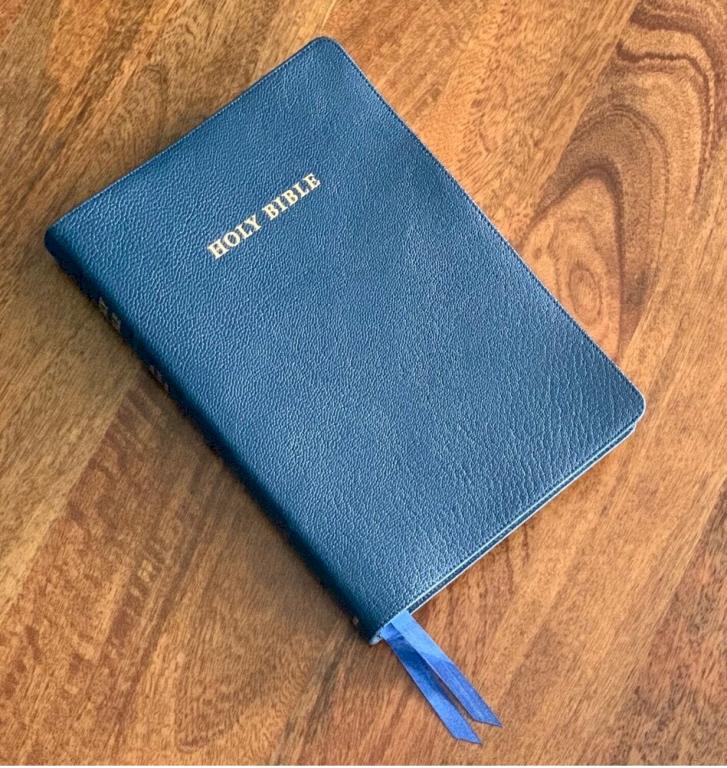 This premium Bible is not only elegant, but the craftsman quality of both the goatskin cover and the construction and printing is peerless.
Hands down, this is in the top 3 of all the premium Bibles I own.
High quality marks every aspect of it.
The typesetting is spaced perfectly, the pages are not too thin but crisp and smooth, and the font is the perfect size.
Highly readable.
Verses are broken up beautifully and each chapter is labeled. There is no glare to the pages; they are an off white.
The blue cover is stunning. The India paper is excellent in quality and gilded in a beautiful gold over blue.
The words of Jesus are in red letters, which I always prefer as I cut my teeth on red letter Bibles.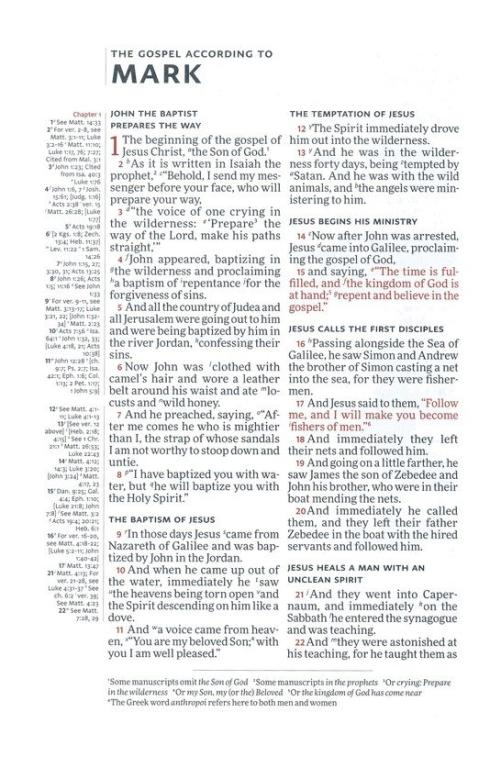 You won't go wrong with this Bible. Either as a gift for yourself or for someone as a premium item.
From the Publisher
The ESV Topaz Reference Bible is another high quality Bible from Cambridge University Press; one of the oldest and respected Bible publishers in the world. As the world's first publishing house in 1584, Cambridge has an eye for classics that have changed the world and God's Word stands at the forefront of that literary legacy. The Bible is the unchallenged bestselling book of the human race, and as well it should be, nevertheless, Cambridge has published other titles of historical significance; such as Newton's Principia Mathematica, Milton's Lycidas, Ernest Rutherford's Radio-activity, and Noam Chomsky's Language and Mind.
Designed to suit private study and public reading, the ESV Topaz Reference Bible is set in a comfortable-sized print and features an extensive concordance, comprehensive maps and an attractive family record section. The words of Christ appear in red-letter text as do the chapter and verse numbers to aid navigation. The edition also includes an elegant presentation page, making it ideal for gift-giving. The sleek and contemporary design of the Topaz is carefully printed on the finest India-style paper, and individually handbound using traditional binding techniques. This edition is bound in dark blue goatskin and edge-lined for extra suppleness and strength. It features art-gilt edges and two high quality satin ribbon markers.
Features:
Large format, double column reference Bible carefully printed on the finest India-style paper
Chapter and Verse numbers picked out in red to aid navigation
A sleek and contemporary design
Edge-lined for extra suppleness and strength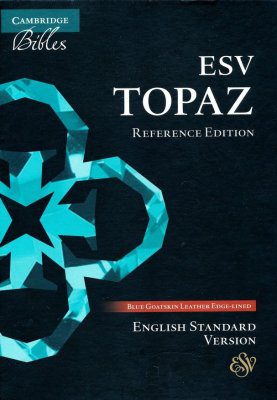 Product Information
Title: ESV Topaz Reference Bible–goatskin leather, dark blue
Format: Genuine Leather
Number of Pages: 1488
Vendor: Cambridge
Publication Date: 2019
Dimensions: 10.00 X 6.50 X 1.50 (inches)
Weight: 2 pounds 9 ounces

ISBN: 1108702260
ISBN-13: 9781108702263
References: Cross References

Text Layout: Double Column
Text Color: Red Letter
Text Size: 10 Point
Thumb Index: No
Ribbon Marker: Yes
Spine: Sewn
Page Gilding: Gold
Stock No: WW702263
Imprintable: Yes
The author received this Bible gratis in exchange for an honest review.