Rick Lawrence has just released a new book. It's called Jesus-Centered Daily.
I caught up with Rick recently to interview him on his book.
Enjoy!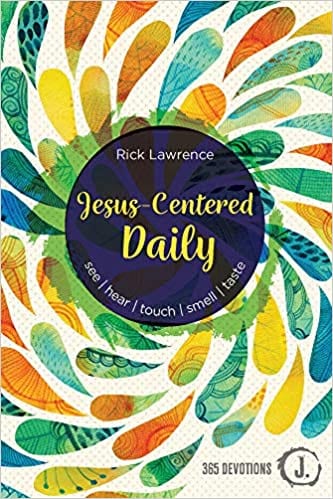 Why did you write this book? What provoked it?
Rick Lawrence: I've written or helped produce (co-authored or edited) close to 40 books and curriculums in my writing life, but my "dream project" was always a daily devotional. As I was growing into my "disciple's heart" as a follower of Jesus, devotionals that drew from the writings of C.S. Lewis and George MacDonald were key drivers of my maturity.
It wasn't just the everyday rhythm of drinking from their fountain that impacted me, it was the upending and wonder-filled way they described the person of Jesus. In particular, George MacDonald's The Wind From the Stars had a profound impact on me—it planted, I think, the other-ness of the Kingdom of God in me. After writing about Jesus and leading thousands of others into a more intimate relationship with Him over the years, I wanted to explore how my shared intimacy with Jesus might spill out into a daily devotional that could have something like that impact
How is it different from the countless other devotionals available today?
Rick Lawrence: Well, "countless" is spot-on! What makes this daily devotional different, I think, is its parable-like personality. Henri Nouwen says: "That which is most personal is most universal." And I believe that. So, this collection of devotions most often enters into the heart of Jesus through the doorway of story—my story and the stories of others. My passionate purpose in every devotion is to, simply, uncover the staggering beauty of Jesus' heart.
As contemporary Christians we've often kept Jesus at a safe distance by locating our relationship with Him primarily in our head. I'm interested in the heart, because the heart is what we will die for. In addition, I lead and teach interactively and experientially, so I've infused this devotional with prayers and questions and experiences that reflect a five-senses playfulness in our relationship with Jesus. In fact, the subtitle for the devotional reflects that unique approach: "See. Hear. Touch. Smell. Taste."
Explain how it is arranged.
Rick Lawrence: Each devotion has an "anchoring" Scripture passage reference at the top, followed by a short (surprising) exploration of Jesus' heart, and the deep impact He makes in every person He meets. At the bottom of each devotional thought is a "Wonder" question, followed by a quote from Jesus, followed by a simple, sensory way to experience the thrust of the devotion (called a "Do"). Each page ends with a suggested prayer to Jesus.
Give an example of a devotional for the day.
Rick Lawrence: Here is the devotional from today…
The Skeptic's Undoing
Read Matthew 11:2-6
We live straddled between the Kingdom of God and the Kingdom of Culture, one foot planted in the sacred and the other miredin the profane. And so we face challenges that undermine our default beliefs and arguments that counter the truths we hold self-evident. We need Jesus to show us how to "live and breathe and move" in an atmosphere of skepticism.
A pastor once called to protest a spiritual practice I call "Psalm-o-Rama" I'd included in one of my books. Simply, I ask Jesus to give me a number between 1 and 150 and then a second number to go with it. There are 150 Psalms, so the numbers that surface are chapter and verse. Then I blindly go to the reference, read it, and ask Jesus to speak to me through it. It's very oftena profound experience, surfacing issues I didn't know needed my attention and encouragement I didn't know I needed. This pastor's skepticism about my "playground habit" with Jesus fueled a furious indignation. Skepticism blinded him to my heart, and to the heart of Jesus.
Likewise, John the Baptist wrestles with skepticism about Jesus as he languishes in prison—doubt is growing like a cancer in his heart. To counter it, Jesus simply describes to John what happens when people meet him: My heart is the chemotherapy that kills their cancer, just as it will cure yours.
Wonder
Jesus tells us we'll "do greater things" than him. What does that mean?
Jesus
"Wisdom is shown to be right by its results" (Matthew 11:19).
Do
Play "Psalm-o-Rama"— read the "Psalm number" that pops up; respond to Jesus.
Pray: Jesus, undermine my skepticism by showing me your impact.
What are some of the best insights about the Lord you can share with our audience.
Rick Lawrence: That's like asking which specific snowflake is my favorite in a snowstorm…J But my favorite way to describe the mission of Jesus is this: "Jesus makes beauty out of ugly."
That pretty much sums up His impact in my life, and in the lives of so many who love Him. It's also true, by the way, of His influence in the lives of "enemies"—those who don't love Him or even acknowledge Him as real. The standard of love in the Kingdom of God is simple: "Love your enemies, and pray for those who persecute you."
What has the feedback been so far?
Rick Lawrence: Well, that's an immodest question for any author to answer. There are plenty of tears-in-the-eyes reviews of this devotional on its Amazon page.
I'm most impacted by these heartfelt reviews by the kindred spirit I sense in them—we all long for close community with those whose hearts are "ruined for and ruined by" Jesus the same way mine has been. And these glowing reviews have that impact on me. I guess my favorite comment on my writing is this (because it's so passionate and creative): "If you relocated to the moon…we would urge you to send dispatches."
How can readers get a copy of your book?
Rick Lawrence: It's available on Amazon, Christianbook, Goodreads, and direct from Group Publishing. It's also available at major bookstores and Christian bookstores once they're pandemic-safe to go into again.
—
Rick Lawrence is an award-winning author, journalist, cultural researcher, editor, and national speaker. He creates and leads interactive trainings for church and cultural leaders, parents, and teenagers. He's authored hundreds of magazine articles and is the author, co-author, or editor of 39 books and curriculums. He's the general editor of the #1 bestselling Jesus-Centered Bible, and author of the recently released books The God Who Fights for You, Spiritual Grit, and The Jesus-Centered Life. He created and hosts the popular podcast Paying Ridiculous Attention to Jesus.