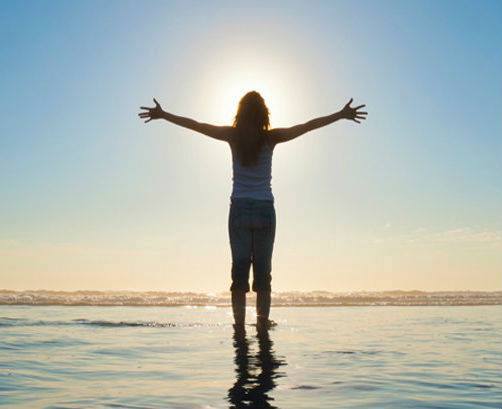 "We were taught half-truths coated with easy-sounding, cookie-cutter, black-and-white ideas I've had to sift through in order to get to the complex, grey-shaded, beautiful mosaic of truth… Now I am free, and I am finally alive."
This is a wonderful article by Teryn O'Brien. I am excited to share it with you today. Enjoy…
Growing up in the church, I wish they would've told me a lot of things.
I wish they would've told me that other denominations were truly part of the church. I wish they would've told me that They were Christians, too, not just Us.
I wish I would have been encouraged to make friends among Catholics and the Orthodox and charismatics. (For the record, I wish I would've been encouraged to make Jewish, Mormon, and Muslim friends, too.)
I wish I hadn't been told that the world was the enemy, that I had to be afraid, that everything in the world was to be mistrusted and avoided.
I wish they would've told me that my worth as a woman is NOT simply in being attached to a man or having babies or remaining silent or in being "pure". That women have a valid voice in the church as daughters of God, and that they bring valuable insight to the church apart from simply being wives and mothers and virgins when not married.
I wish they would've told me that men and women should work together to further the kingdom instead of fighting gender wars.
I wish they would've told me that my body was beautiful and cherished by God, and that it isn't just a stumbling block to men, so that I have to be ashamed and terrified of my body and sexuality. Why didn't they tell me I can embrace my self, my body, and love who I am as a woman?
I wish they would've told me that the narrow theological interpretation of the Bible I was taught is not just "what the Bible says," but a human interpretation. In fact, why didn't they mention that numerous people through the centuries made wildly different and often conflicting interpretations, all the while feeling confident that they were teaching just what the Bible says? That for centuries, people have debated theology, and that's okay—and actually healthy—to do.
I wish I had been told to have humility about my personal convictions, because the core tenants of the Christian faith (AKA Jesus's teachings and the creeds) are what's truly important.
I wish they would've told me that there is more that unites us than divides us. That Catholics and Protestants and Anglicans and charismatics (etc., etc., etc.) can disagree on issues, but still love each other and serve Jesus wholeheartedly in the unity Christ commanded. Unity does not mean conformity, but working together in the midst of diversity.
I wish they would've told me that political commitments and alliances don't determine whether someone is saved or not. Jesus wasn't red, nor was he blue. Christianity doesn't easily fit into liberal or conservative, and we should be careful to listen to people with differing opinions.
I wish they would've told me that if I'm depressed or sad, there are reasons for it. It's not just because I don't love Jesus enough. That seeking help, counseling, and avenues toward healing are not shameful, but beautiful, freeing, and life-giving.
I wish they would've told me that it's okay to cry, to question, to wrestle through my brokenness in front of my fellow Christians, instead of being shamed into hiding.
I wish they would've told me there is a place in the church for artists, people in business, people who have their own unique callings. That I didn't have to just be a missionary or pastor's wife in order to be "radical for Jesus."
I wish they would've told me that faith is best lived out when we are embracing who we are in Christ and following his plans for our lives, which can mean so many things for so many different people.
I wish they would've told me more about grace and love, not just legalistic rules. That there is freedom in Christ to live and worship and thrive in so many beautiful ways.
But I wasn't told these things in the church. Or if I was, I don't remember them and they didn't shape who I was. These things weren't central to the lessons I learned growing up in the Christian subculture, and so if someone somewhere did try to emphasize a more healthy outlook, it was quickly drowned by the prevailing mentalities.
The same is true for most of the Christians I knew and loved. We were taught half-truths coated with easy-sounding, cookie-cutter, black-and-white ideas I've had to sift through in order to get to the complex, grey-shaded, beautiful mosaic of truth.
Still, by the grace of God, I've learned. I've learned a lot by following God, sincerely praying, and seeking counsel. Now I am free, and I am finally alive.
Someday, when I have children, I hope I can teach them all the things I had to learn later, as an adult, on my own. I hope they can live in freedom, too.
I hope we can seek to better teach our children about the complicated, beautiful, diverse, freeing faith of Christianity.