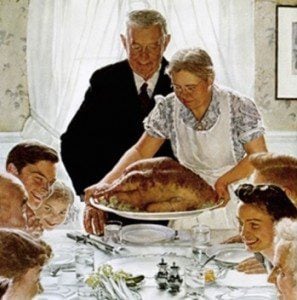 Do you still have a place at your family's Thanksgiving table?
For those of you who are spending this Thanksgiving with friends or new family, I understand how you feel. Many of us have been rejected by family because of being LGBTQ, or because of our love, affirmation and acceptance of those who are. This is a poem I wrote this morning and I wanted to share with you…
You welcomed me into the world in joy and laughter

You showed me around and taught me everything

You were my family.

I never thought there were limits to family.

You bought my school pictures, cute or goofy

You cheered through all my games

You put my drawings on the fridge.

I had no idea family had conditions.

You talked about  holiday and family traditions of kindness and caring

You said to love and sacrifice and serve

You told me not to judge others.

How could you now say I'm no longer family?

I did not agree with everything about your life either

We each have our own times to grow

Life's kind of full of those.

It never occurred to me to exclude anyone from our family.

This year you excluded me, you told me not to bother

You removed my place at the family table

I'll spend it with people who love me as I am.

I have found other family.
I have come to find great joy, satisfaction and blessing – beyond what I ever imagined – with new friends and new family. I wish the same for you.
And I thank God for all of you, my FreedHearts family.
You will always have a place at my table and in my heart.
Love, Susan