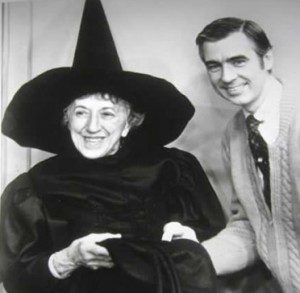 Did you ever watch The Wizard of Oz as a kid? Were you TERRIFIED of the Wicked Witch of the West? O! M! G!! "I'll get you my pretty, and your little dog too! A-hahahah" – turn to camera – "A-HAHAHAHA!" OH MY GOSH!
How many NIGHTMARES did that witch inspire?!?
Well, I recovered from my Wicked Witch fear "all in good time, all in good time!" In fact, I have rarely thought of the Wicked Witch, or Margaret Hamilton who played her, in all the intervening years.
Then my husband sent me this clip. It's Margaret Hamilton on Mr. Roger's Neighborhood, telling Fred Rogers that it is hard when people misunderstand you or are afraid of you.
Very hard.
She said that when they made the movie, they did not know how scary the witch would be. Of course, Mr. Rogers can bring out the very best in anybody, and after he talks a bit to this woman who is so clearly NOT scary, he then helps her put on the witch's costume – and she is… still not scary! Isn't that something?
When your first impression of someone is terribly frightening, it can take some demystifying to change it. Mr. Rogers, the consummate extraordinary-human-being, was able to demystify the Wicked Witch!
He simply talked to her like a person, and she responded like a person – because she is just a regular person! Then, even when we saw her in her scary witch costume, she still wasn't scary – because we already trusted her, felt safe with her – she was already like our grandma.
When people's first impression of LGBTQ people is frightening, it can take some demystifying to change it.
Many churches have presented gays – and their "agenda" as scary. Perhaps (as Margaret Hamilton said about the witch), they did not know how scary their presentation of LGBTQ people would be. Perhaps they did. Whether they knew or not, they need to stop dehumanizing this group of human beings, and using that fear to justify abusive, harmful and unloving treatment.
We all need to remember the privilege we were given, to share God's love for everyone!
I see this happening in many, many families. Their kids who belong to them, whom they already love and adore, come out as LGBTQ. They did not choose to be gay. They are as God perfectly created them. The good news is that more and more of these parents are saying, "I love you, and I will never stop loving you. I am sorry I let religion scary me into thinking you were something else… I did not know this is what being gay really looked like. It is just my child.
Maybe we need to rethink this whole scary 'gay agenda' thing. Maybe it's not the terrible witch we were taught that it was.
If we just look, maybe even at our own child, we can see that without the scary "costume" the church has put on them, they are truly beautiful.
Perfect in God's eyes.
Hopefully, perfect in our eyes too.