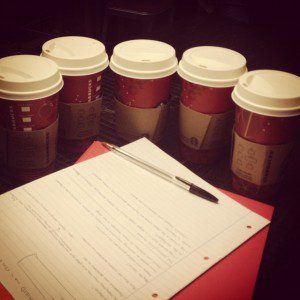 Most of you know, but just a reminder… I am in the process of getting my M.Div at seminary!  Well, it's finals week… head full… could explode… you've been warned. When can a person actually be in danger of a caffeine overdose?!?
Not only am I getting vast amounts of new information, and remembering things I'd forgotten or never learned from college, my whole belief system has been pulled out on the table for evaluation. And it's wonderful! I feel closer to God and the truth than ever before in my life.
I do not say this so you will know what's going on in my corner of the world… though that's fun! I say this because what we've been taught in our non-affirming churches and how things actually went down are two vastly different things.
We are told that God is angry at you for just being you… that God created you as such a mess (or knew you'd quickly become one, i.e., the fall), and then God held you accountable for being a mess… that makes no sense.
Truly.
I know many of you reading this are on a similar journey… it's what yesterday's post was about – When God Stops Making Sense.
As I move along here, I want to take your hand and walk together on this adventure of discovery. We will continue to reevaluate some of the basic pieces of our faith… or the remnants of the faith that was put on us… and see what is really true.
Because all the conditions, rules and regs that have come down through the church — those are not true. That if you don't behave a certain way, God is going to throw you into hell. That God's entire goal for you is to obey.
Those things were not true when Jesus spoke vociferously against them – and they are not true now.
It's not true just because your beloved family or church has taught them to you since the cradle. And it's not true regardless of how many lives have been destroyed by those who want to impose those rules on others.
We'll keep walking through some eye-opening experiences here. That's my hearts desire with all of you. I just encourage you not to be afraid to let things fall. The God Who is There is bigger than our God-constructs. Don't be afraid of what you don't know. Be excited about WHO you do know, or can know.
To some it may appear that we are turning away from our faith. But maybe the truth is that we are turning away from god (the lies that we have been taught) and turning to God (the truth as revealed through the entirety of Scripture and the life and teachings of Jesus).
God is about personal, loving relationship. That, as with any person, is a journey. God is NOT about rules and regs, and never has been.
So glad to be on this journey with you. There are more of us than we know, and the numbers are growing every day.
– Susan