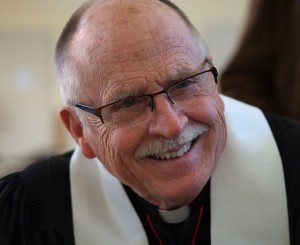 When you hear Cyndi Lauper leaning into the microphone and practically shouting the chorus to "True Colors" you know why her song raced to #1 on the Billboard Charts. "I see your true colors shining through. I see your true colors shining through, and that's why I love you."
Now let's hope that Susan Cottrell's new book, True Colors: Celebrating the Truth and Beauty of the Real You, races to the top of the Bestseller Lists. Why? Because Susan, the mother of five children including two LGBTQ daughters, has poured her heart into writing True Colors and, like Cyndi, is practically shouting her theme song to LGBTQ people around the world: "God loves you exactly as you are. Period!"
In 2013, Susan and her husband Robert founded FreedHearts, a 501c3 nonprofit organization helping LGBTQ people heal from the spiritual and psychological wounds afflicted by families and by churches still confused by sexual orientation and gender identity.
Susan is a tireless advocate for the liberation of LGBTQ people. Susan speaks at conferences, churches and meetings across the country, and she writes books, and a popular blog at her website FreedHearts.org. Imagine the avalanche of letters and emails, phone calls and texts they answer daily with messages of hope and healing.
Susan knows all too well the tragic consequences in the lives of young people who have been rejected, discarded and disempowered by their Christian families and churches. And though she is critical of churches and church members who are not open and affirming, Susan herself (currently getting her MDiv at Austin Seminary) loves to tell the stories of Jesus in ways that bring joy and renewal rather than guilt and shame.
Susan isn't new to this business of confronting the anti-gay bias of churches and families. In fact her last book, "Mom I'm Gay"—Loving Your LGBTQ Child Without Sacrificing Your Faith has helped countless Christian parents and pastors to better understand what it means to be an LGBTQ person growing up in a hostile, unloving environment and what they can and must do about it.
True Colors is more than just a good read. It is an opportunity for readers to journal on special pages left for that purpose. Throughout True Colors Susan asks the reader frank and honest questions that require frank and honest replies. This "journaling" gives readers an opportunity to keep a running conversation with themselves.
When you order
True Colors
order two copies. Give the second copy to a friend or a member of your family whom you trust. Ask that person to read and journal at same time you are reading and journaling. Then get on your cell phone, Skype, or social media and compare notes. Or, why not take a real risk and give a copy to your hostile parent, pastor or priest. Although
True Colors
is written primarily for people who are LGBTQ, Susan often interjects ideas along the way that can change the mind and heart of hostile readers as well.
Susan Cottrell makes it very clear from the beginning that she wrote True Colors to help LGBTQ people heal relationships with parents, family, others, with God and with themselves. And she provides practical ways to go about bridging those gaps that seem too wide to cross.
This is a very personal book for Susan. She is absolutely convinced that heart-healing can take place, that relationships can be reconciled.
You can almost hear her whispering between the lines "God loves you exactly as you are. Quit being afraid. Quit hiding. Love yourself as God loves you. Begin your new life as a self-loving LGBTQ person and let the healing begin."
Warning, even before you finish True Colors, the Spirit of Truth might convince you that it is time to move out of the shadows and into the light. When that happens, drag your own true colors out of the closet. Put them on. Let your feet dance and your heart soar.
I have to admit that as I read True Colors I heard another voice whispering in my ear "Remember, Mel, when you weren't sure that I loved you exactly as you are? Remember how hard it was to love your gay self, to accept it and celebrate it as one of my great gifts? Remember the amazing new life you had after you gave up the closet, fell in love with Gary Nixon and now look back on 35 year amazing together?"
As I read Susan's True Colors I thought I heard God singing directly to me, "I see your true colors shining through. I see your true colors shining through and that's why I love you."
— Rev. Dr. Mel White, Co-founder, Soulforce; Author Stranger at the Gate: to be Gay and Christian in America and Grace and Demion: A Fable for Victims of Biblical Intolerance
We have just launched FreedHearts Online — comprehensive video courses, including one for LGBTQI to help heal from family, religious and community wounds. It's time to set your heart free, celebrate your genuine self, and love and be loved, as you deserve! For information on this and Susan's companion book, True Colors, please click here.