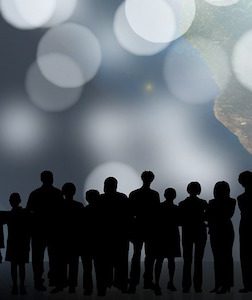 You may believe that by teaching against homosexuality, you are keeping people from being LGBTQ or allies. That may be why you think you teach that way. But you don't really understand this at all.
In my moms group — a secret FB group of moms of LGBTQ kids — we talk about the ways we've been treated (vilified and rejected), with our thoughts toward healing not only of ourselves and our beloved children but of your children whom you are hurting without realizing it.
We seek to reach the moms and dads you'll never know you're hurting because you are not safe to tell, to let them know they are not alone. We seek to display Christ's love to those in the church because it has been missing from the nonaffirmers in this area for a long, long time.
We are a growing voice of love, and we are a voice to be reckoned with.
This letter was written by a mom in your church — and in our private secret Facebook moms group. Please ask God to help you understand as you read.
Parents are the secret weapon of the Christian churches… What do you do with 1000+ mothers of LGBT children who have fervently prayed for God to change their child only to find that God changed us instead??? 1000+. That's just the number of us who have been able to connect in this particular private Facebook group.
There are of course many, many more. What do you do with us? Do you even know we are here? Do you know that we have been excluded from the table of our own Christian communities? Do you care that we feel isolated and alone out here? Do you know that we want to be able to speak freely about our children in Sunday School, Prayer Meeting and at Wednesday night Bible Study? Can you see that you have shut us out?
We don't want to be made to feel we have to hide our children. They are fantastic human beings! We are proud of them! We have no reason to be ashamed! I promise we don't need to be told "the truth in love" because I can guarantee we've been over that countless times with others and in our very own heads.
We are part of the Body of Christ. Don't be afraid to engage with us and ask us about our stories. We love talking about our families. We want to be full participants. Lots of us still attend church only to leave crying at occasional sermons that demonize our most precious gifts from God that we brought into the world.
Many of us have given up church and can't go to a place that won't fully welcome our children… because, you realize, if you aren't welcoming my child… you aren't welcoming me. My children and I are a package deal. I'm telling you of a mission field of people to love — like Jesus loved — like  you have been loved — right this very minute within your reach. LGBT people and their families have walked away or are close to walking away from church in droves. We are right here… right in front of your eyes… 
— Written by Jennifer Stringfellow, mother of a gay son, reprinted with her permission
We are the body — a vibrant part of the Body on which the nonaffirming church has attempted to put a tourniquet. But will not be silenced. Time is on our side. History is on our side. The heart of God is on our side.
The voice of a parent is a powerful voice. The voices of a multitude of parents is a movement. We are an unstoppable force.
It is a movement based on truth and love, based on the very heart of God and the life and teachings of Jesus.
This movement, this work to unconditionally love and radically include, this work with a Christlike focus on the oppressed and marginalized will continue because it is God's work! You will either be for it or against it.
Please, pray for God to open your eyes to people who are hurting, open your arms to embrace people who are alone, open your mouth to express kindness and affirmation—and open your heart to the truth of God's free-flowing and unadulterated love.
It is a movement of love, of inclusion. The parents are coming. And I am one of them.
If you would like information on our private, secret Facebook support groups – one for Moms and one for Dads – please just contact us.