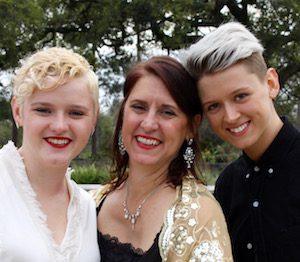 I took my laptop with me to the kitchen for a lunch break from writing — I like to enjoy TED Talks as I cook — and today it was "10 Most Inspirational Ads." It was ad number eight, I think, that got me. I won't do it justice here but essentially: the little boy was caught stealing medicine for his mother, but a kind man gave him a break, paying for the meds and giving him soup as well — then thirty years later when that man ended up in the hospital, the boy turned out to be the doctor and so was able to forgive the insurmountable hospital debt. On the bill, he wrote: "All expenses paid 30 years ago with three packs of painkillers and a bag of veggie soup." You've seen the kind.
Suddenly, I wept. I turned off the burner under my leftover fajitas and let the tears fall, deeply moved by the profound and inherent kindness of which human beings are capable. I wept for how often people in this world need a hand to pull them up (like the little boy stealing the pain meds), need a very large break (like the man facing the hospital bill), need simple kindness (like the LGBTQ community and their families).
I wept at how many LGBTQ people need bread, but their families give them a stone — or worse, a snake (Matt. 7:9–11).
Kindness is woefully under-expressed in our human family.
I published the first edition of "Mom, I'm Gay" in January 2014, compelled to help terrified parents navigate the treacherous waters — societal, family, and church — that they suddenly faced because they had an LGBTQ child. I knew how disoriented these parents were, and I longed to help them — and especially their kids. I knew that to help the parents was to help the kids (of any age), and these kids have stolen my heart.
In these two-and-a-half years, much has changed. The Supreme Court has made marriage equality the law of the land. Many places now warmly welcome LGBTQ people. But in many ways, nothing has changed. The law still sanctions housing and workplace discrimination. Too many parents still live in terror of "homosexuality" and respond viciously to their own children. Parents who embrace their gay kids are still vilified. Unkindness and rejection are perpetuated in God's name.
I fervently hope that the revised and expanded version of
"Mom, I'm Gay"
will continue to comfort both parents and their LGBTQ children, help put their fears to rest, and help revitalize them to this amazing life they have been given.
I believe that God is shaking the church until what's left is the unshakable: God. I believe God is shifting the attention from behavior modification to the profound, transformative, life of the Spirit.
That is where our hope lies.
Our primary job is to love God and love others, and let God take care of everything else. We can have more peace than we ever knew possible, and joy beyond our wildest dreams, as our children flourish in God's inexhaustible love for them.
I hope you will join me on this journey!
With love, Susan
Susan's classic book: "Mom I'm Gay" – Loving Your LGBTQ Child and Strengthening Your Faith has been endorsed by Human Rights Campaign and many others.
The NEW Revised & Expanded Edition has now been released!
Click here for more information.