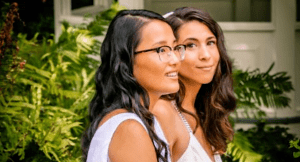 "Saturday night, my daughter, Rachel, married the love of her life, Amy. This last year has been such a struggle of losing friends and strained relationships with family because we unconditionally love and support our beautiful Christian gay daughter. However we know we have made the right choice."
This post is about Randy, one of the Dads in our FreedHearts Dads Facebook group. With his permission, I want to share it with you. Here is Randy's toast from the wedding reception…
First of all, Danette and I, along with Rachel and Amy would just like to say thanks to all of you for making it a priority to be here today. Some family and friends couldn't make it, and some made a choice not to be here, but you chose to be here and we really appreciate it.
Really, this is a gathering of family and good friends that have been so supportive of Rachel and Amy, and Danette and me as we have been on this journey.
Today is not the wedding day Danette and I first envisioned when we had Rachel as a baby. I have to admit that as any good father would have, I had dreamed of intimidating some guy and making him sweat while he asked me if he could marry my daughter. But Amy screwed that all up. It is not nearly as much fun scaring a girl.
Danette and I would not change anything about this day even if we could. Because to change it would mean Rachel would have had to change to be someone that she is not and that is something we would never want.
Rachel, Amy, you are both made in Gods image exactly the way he wanted you to be. We love you both so very deeply so just remember this. Be loud and be proud!! Just kidding, just be yourself exactly as God made you.
This wedding has been costly in many ways. For some of us it cost money. In a way, for some others, it cost even more.
We want to say a special thank you from the bottom of our heart to Pastor Matt Essig. The two greatest commandments are Love God and love your neighbor. Matt has embraced that and put that into action.
Those are easy words to say but often times so very difficult to put into practical application. Over the last year you have exemplified both of those things and we are so grateful that you have showed unconditional love to our family, and more importantly to Rachel and Amy.
In many ways Matt has paid and continues to pay a very high cost for his willingness to show love. I'm not sure why that is so hard for many Christians since that is exactly what we are called to do.
So, again Matt and Jessie we can never express in words how much you both have meant to us over the last year, and we want you to know we realize the cost you paid to be a part of this today, and for that we are forever grateful.
To Frank and Ellen (my Wife Danette's parents and Rachel's grandparents), we are so thankful you have been there for Rachel, Amy and us. You are a wonderful example of how a family should be, and how a family loves unconditionally.
Maya Angelou said, yes I am quoting Maya Angelou, "Do the best you can until you know better, and when you know better do better." Well in the past Danette and I did the best we could, but now we know better, and since now we know better we are doing better. To our gay friends here today I just want to say I believe God made you exactly as you were meant to be and he loves you exactly the way you are.
Amy, today Rachel made a decision to choose you. Today Danette and I also choose you. We choose you to be our daughter, and though we feel like we have already welcomed you into our family today in front of these friends and family we make it official. We will be there for you, to give advice, but only if you want it. Well maybe every once in a while even when you don't want it. We will be there to help you, and to love and protect you just like you are our own daughter.
Rachel and Amy, we believe that God made you exactly the way he wants you to be and that you were made in his image. We look forward to watching you both grow as individuals, and also as a couple and in your love for each other.
Remember to remain friends, and to treat each other with love and respect even when you may not feel like it. Do your best to put each others needs before your own, and if you do this you can't go wrong. We love you both and are so excited for you and can't wait to see what the future holds.
So if everyone will please join me in raising a toast to Amy and Rachel. To many years of love and happiness.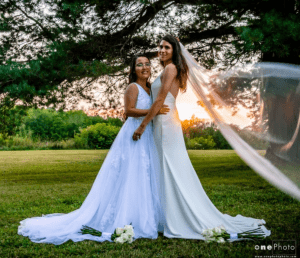 And this is Randy's wife Danette's Facebook post about the wedding…
Yesterday we celebrated one of the happiest days of our lives! This day was filled with nothing but love and joy and some happy tears. It was filled with a lot of laughter, great food, and the best friends and family to help us celebrate love. I wouldn't have done anything differently. Rachel, when I think back to when you struggled through those emotions and feeling of being alone when you realized you were gay and that you dealt with that by yourself, I could just cry.
You were just a girl who loved Jesus, and realized you were gay. And, I'm sure you felt scared, and alone. You wanted to have it all. Your family, and God, and your future. And you didn't think you'd be able to have it all.
So, as your mom it will always be my greatest sadness that Dad and I did not do our own work early enough so that you felt safe and beloved in your own family.
I hate that you had to feel lonely, scared and vulnerable. I am so sorry. And I'm so sad about that. And if I could go back, I would change it. I would shake myself to life before you were even born, shake some sense into me. Like, "Look at this, look at what this is causing. Just look around, use your eyes, use your ears, use your brain, and use your heart." And I wish I could have gone back and changed that. And I'm so sorry, and I'm so sad that you suffered. And I'll always be sad. I'll always be sad about that.
But also, we are so proud of who you are. I would not change one molecule of you, not one. I'm so glad you're gay, I'm so proud that you are free. I love that this is how you were made. I'm thrilled about your future.
And I'm so happy that you found Amy! You both compliment each other so well. We love you both! Cheers to a healthy, happy life! (This was my toast that I would have given if I could talk without crying through it) I'm happy that today you have it all…Jesus, your family and the beginning of your future.
We have extensive resources and vibrant online community for parents of LGBTQ children; for those in the LGBTQ community; and for family, friends and allies. Please come say hello. Just click here.
Photos from One Photo: https://www.onephotophoto.com/