A few days ago I posted the following on Facebook: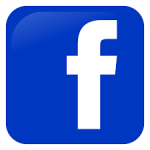 My favorite sort of discussion (very common in social media) is the one in which the person with whom I am disagreeing doesn't know the difference between disagreement and lack of comprehension. You know, the sort of person who continually says "What is it about my perfectly clear and 100% correct position that you don't understand?" since of course there is no possible chance that I might understand perfectly and just disagree. Or that the person in question might just be wrong. Or that there is more than one supportable position on the issue. Sigh.
My Facebook message was prompted by the latest unsolicited example of such communication. On Tuesday morning I opened my email, as is my early morning custom, to find that a comment had been posted in the middle of the night on my blog in which, among other things, the commenter accused me of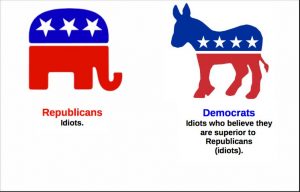 Not knowing the difference between Republicans and Democrats (I do)
Not knowing the difference between liberals and conservatives (I do)
Claiming that all conservatives hate poor and disabled people (I didn't)
Being a socialist (I saw no evidence that she knows what the word means)
Making her life difficult because she would now have to refute my argument on her "political blog." (Guilty as charged–my purpose in life is to make your life difficult)
She was commenting on a blog post that made its first appearance two years ago—and is by far the most popular post in the four-year history of my blog.
I made a point of going to her "political blog"; as soon as I saw that her "go-to" adjective to describe the positions held by liberals on various issues is "moronic," I knew there was little sense in seeking to engage her further. Still, I couldn't help myself and responded as follows: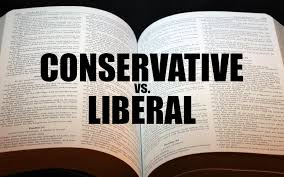 Thanks for your comments. We probably do not share much in common politically, but that's fine. Please note that my post you commented on is not about liberal vs. conservative or Republican vs. Democrat in general–it's about the challenge of fitting one's political commitments together with one's Christian faith. Your comments are simply a rehash of the usual conservative vs. liberal stuff, which I'm not particularly interested in. If you care to engage with the issue that I'm actually writing about, I'd love to hear your thoughts. You might perhaps be interested in a follow-up essay to the one you commented on that I posted several weeks after the first one:
This was just my latest example of fruitless conversation about important issues, a problem that infects our private and public conversations at every level these days. Lest I give the impression that it is only people on the other side of the issues from me who regularly fail to participate in civil debate, I freely admit that the only reason I avoid being nasty and snarky in conversations with those who disagree with me is that I generally manage to avoid such conversations like the plague. Jeanne and I, for instance, recently visited family in Pennsylvania for the first time in several years.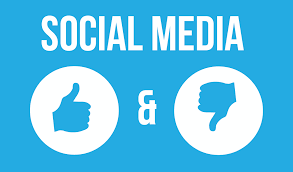 We are liberals, they are conservatives—and we all know it. Accordingly, we talked about the many things we share in common—our dogs, the kids, our shared faith, sports—and did not talk about politics, flash-point social issues, and so on. And a fabulous time was had by all. This is one of the reasons that social media is a poor substitute for real interaction with flesh and blood humans. Social media thrives on controversy, name calling, virtual bomb throwing, and typing things into your device that you would never say in person to your worst enemy.
I am a philosophy professor and spend a lot of time and energy trying to convince my students that doubt and questioning are healthy human activities, that certainty is overrated, and that civil discourse requires the ability to engage without judgment persons holding contrary viewpoints to yours.

Yet I find that on some issues I do not believe that there is "another side." Same-sex marriage, gun control, global warming—don't get me started. I used to occasionally watch a few minutes of the 24-hour news channel whose programming is built on the promotion of the opposite of what I believe on just about every issue, just to "see what the other side is doing." Not anymore. I'm even selective about what I listen to on NPR and the 24-hour television news channel where everyone pretty much agrees with me all the time. The other day after a big news event the host of a show on that channel lined up a former head of the DNC and a Republican senator to comment. I listened to the first guy and changed the channel before the second guy got to give "the other side"—life's too short to waste any time listening to people who are wrong. My guess is that there are millions of people out there who in practice are just as intolerant of "the other side" on some issues as I am. How did we get to this point?
I received a number of wide-ranging and interesting comments from my Facebook acquaintances—the vast majority of whom share a worldview strikingly similar to mine (that's why we "friended" each other in the first place)—after posting my mini-diatribe about people who don't know the difference between disagreement and lack of comprehension. A sampling:
I don't understand. (smart ass)
I love these people too! They remind me of what most people are like and how fortunate I am to have been raised with an open mind and heart. Unwillingness to see someone else's side is the source of most conflict. And it is the sad state in which we currently live. Feeling your pain! (a bit condescending for my taste, but I do appreciate the Bill Clinton reference)
People increasingly live in opinion bubbles. This applies to both left and right. (I've written about this before (notice how skilfully I am getting links to other blog posts in? I need the numbers)


I saw a funny statement. "I hold in my hand a device that can access the whole of human knowledge. And I use it to argue with strangers and look at pictures of cats." (I love it)
A few comments particularly stuck out:
Favorite song line (from Maya, by Incredible String Band) "opinions are his fingernails" They just keep growing, even after the reason is dead. Or chewed on. (Much better than the old saw "opinions are like assholes—everyone's got one."
Some were self-reflective:
They evoke some combative part of me that aims for vindication, instead of the better part of me, that wishes to achieve understanding through discussion.
Others turned me into a "sad" emoji (this one from a very smart and engaged cousin):
For the most part I've stopped trying to have reasoned debate with people of contrasting views. Reason seems to be too rare, and as you said, it degenerates to "why don't you understand me?"

A sad but accurate comment on the state of discourse these days.
And finally, this from the priest at my Episcopal church:
Persuasion at any cost… Even at the expense of the truth. We are better than this.
Are we really better than this? Sometimes I wonder.