Historical Christianity has fallen into the error that corrupts all attempts to communicate religion . . . It has dwelt, it dwells, with noxious exaggeration about the person of Jesus. Ralph Waldo Emerson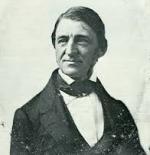 On July 5, 1838, in the middle of what he called "this refulgent summer," during which "it has been a luxury to draw the breath of life," thirty-five-year-old Ralph Waldo Emerson delivered what has come to be known as his "Divinity School Address" to the graduating class of the Harvard Divinity School. At this time, the Divinity School was the acknowledged center of Unitarian thought; even though Unitarianism was close to the fringes of liberal Christianity, Emerson's words were so stunning and radical that he wasn't invited back to campus for 30 years (some sources say 40).
As I reread the address for the first time in several years, in preparation for a class in the American Philosophy course I taught recently, two things occurred to me almost simultaneously:
I completely understand why even the most liberal Christian scholars and professors at Harvard didn't want this guy on campus.
I can't believe how strongly I have come to agree with even the most "out there" parts of his address.
Maybe that's why I've never been invited to give a talk at Harvard.
Emerson's theme is what he calls "the religious sentiment," a recognition that the moral law is present equally in each individual and that I am, as are all human beings, a part of something greater and sublime.
This sentiment . . . is a reverence and delight in the presence of certain divine laws. It perceives that this homely game of life we play, covers, under what seem foolish details, principles that astonish . . . This sentiment is the essence of all religion.
Emerson seeks to convince us that "This sentiment is divine and deifying. showing the fountain of all good to be within." In case one might think he is speaking hyperbolically, Emerson drives his point home: If a man is at heart just, then in so far is he God. And, Emerson insists, almost without exception our human attempts to codify and systematize this sentiment—attempts that we usually call "organized religion"—have screwed things up.
Without fail, organized religions teach their adherents that the divine nature that is in all of us actually is only to be found in a limited number of human beings; the natural divinity in all human beings accordingly is "denied to all the rest, and denied with fury." In the case of Christianity, the problem arises from a complete misunderstanding of and overemphasis on the person of Jesus.
Historical Christianity has fallen into the error that corrupts all attempts to communicate religion . . . an exaggeration of the personal, the positive, the ritual. It has dwelt, it dwells, with noxious exaggeration about the person of Jesus.
The Harvard Divinity School faculty and graduates in the audience undoubtedly thought, with justification, that a Christianity that does not focus centrally on the person of Jesus hardly deserves the name.
But Emerson is just beginning. By raising the person of Jesus to exalted status, Christianity has managed to convince its adherents that God no longer speaks. Anticipating Friedrich Nietzsche's infamous proclamation fifty years later, Emerson tell his audience that
The Moral Nature, that Law of laws whose revelations introduce greatness—yea, God himself—into the open soul, is not explored as the fountain of the established teaching in society. Men have come to speak of the revelation as somewhat long ago given and done, as if God were dead.
The person of Jesus, the activities of the divine in the world, the miracles that accompanied God's presence in human form, have been shut up between the leather covers of a book and ossified into doctrines and rituals. No wonder Emerson speaks favorably of the man who once told him privately that he felt as if he was doing something immoral when he attended Sunday services at his church.
So who was Jesus? Is Emerson one of those heretics who wants to sell Jesus to us as just another excellent teacher, a fine moral exemplar, an admirable human being but not divine? Hardly. Jesus' greatness and uniqueness lie in recognizing who he truly was—and through this recognition each subsequent individual can find empowerment and inspiration.
Alone in history he estimated the greatness of man. One man was true to what is in you and me. He saw that God incarnates himself in man, and evermore goes forth anew to take possession of his World. He said, in this jubilee of sublime emotion, 'I am divine. Through me, God acts; through me, speaks. Would you see God, see me; or see thee, when thou also thinkest as I now think' . . . He was the only soul in history who has appreciated the worth of man.
Emerson does not deny the truth of the Incarnation, the seminal and central truth of Christianity. Jesus was truly both human and divine. But his greatness lies in his awareness that this was not unique to him. Humanity and divinity belong together, and are fused in every human being. Jesus' empowering gospel directive to his disciples was that they would do even greater works than his; his message to us is "Dare to love God without mediator or veil . . . Yourself a newborn bard of the Holy Ghost, cast behind you all conformity, and acquaint man with Deity." We would do well to remember Catherine of Genoa's insight: "My deepest me is God."
I smile as I imagine the faces of the faculty and graduates as they listened to Emerson's message of radical incarnation. One can hardly build a functioning, hierarchical religion around the shockingly democratic idea that all human beings share the spark and the mark of the divine. Yet Emerson suggests that there remains an important place for teaching and preaching: "It is the office of a true teacher to show us that God is, not was; that God speaks, not spoke . . . the true Christianity is a faith like Christ's in the infinitude of man."
Several years ago, my long dormant and atrophying faith awakened when I embraced the Incarnation story in a new way. God not only became human, but we human beings remain the only way in which God gets into the world. Jesus told his critics that "He who has seen me has seen the Father." Emerson's radical but empowering insight is that each of us, once we embrace who we truly are, can say the same thing.