Today is Transfiguration Sunday, the last Sunday before Ash Wednesday and the beginning of Lent. Each of the synoptic gospels, including today's lectionary reading from Matthew, tells essentially the same story. Jesus takes his inner circle of Peter, James, and John to the top of a mountain where suddenly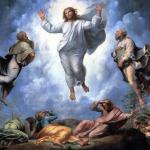 Jesus has a conversation with Moses and Elijah, while "his face shone like the sun and his clothes became dazzling white." The disciples are understandably frightened, but Peter still suggests that they should memorialize this event by making three dwellings, one each for Moses, Elijah, and Jesus. A voice from heaven puts an end to that proposal, saying that "This is my Son, the Beloved; with Him I am well pleased. Listen to him."
Theologians have had a field day over the centuries seeking to establish the meaning and importance of this event. Thomas Aquinas considered the transfiguration the greatest miracle of all, arguing that it complemented baptism and showed the perfection of life in heaven. I want to consider a different angle on transfiguration, one that begins in the most mundane of all places—a Dunkin' Donuts parking lot several years ago.
As Jeanne headed into the shop to purchase her precisely engineered beverage (and pity the fool who didn't get it right), I stayed in the car surfing the FM dial—my coffee intake for the morning had already exceeded its quota. I landed on New York's NPR classical station just in time to hear "Ombra mai fu," the opening aria from Georg Friedrich Handel's 1738 opera Serse. Parked in an ugly Double-D parking lot on Long Island, I thought to myself that when the angels sing, they must begin and close with this piece—perhaps the most beautiful I've ever heard.
A quick YouTube search will provide any number of exquisite performances of "Ombra mai fu," from recordings sung in the soprano range for which the piece was originally written, to those transposed into the lower and richer mezzo-soprano or contralto ranges, or perhaps sung by a male soprano as it would have been originally, since the aria is sung by King Xerxes in Handel's opera.
"Ombra mai fu" captures peace, sadness, hope, and beauty all in a perfect two-and-a-half minute package. My current favorite performance was rendered when members of the viola section of the Metropolitan Opera Symphony accompanied soprano Joyce DiDonato in a Zoom performance of "Ombra mai fu" during an "At Home Gala" concert recorded in the early days of Covid-19 shutdown in April 2020. Listen and weep.
The music is so moving that when I first heard it many years ago, not knowing Italian, I speculated that the text of the aria was probably religiously themed along the lines of so much of Handel's compositions. But no—the text of "Ombra mai fu" contains no lofty sentiments, no paeans to the divine. It's a brief poem of thanks for the shade of a plane tree
Ombra mai fu  
di vegetabile
cara ed amabile,
soave più.
Never was the shade
of any plant
dearer and more lovely
or more sweet.     
It struck me then, and it strikes me even more strongly now, how fitting it is that one of the most inspired pieces of music ever composed was written in honor of a tree.
One of the greatest continuing insights of Reverend John Ames, the aging Calvinist minister from Marilynne Robinson's Pulitzer prize winning novel Gilead, concerns the sacredness of all things. As he nears the end of his life, he pays close attention to the mystery and miracle of things most of us dismiss as "ordinary."
It has seemed to me sometimes as though the Lord breathes on this poor gray ember of Creation and it turns to radiance—for a moment or a year or the span of a life. And then it sinks back into itself again, and to look at it no one would know it had anything to do with fire, or light. . . . Wherever you turn your eyes the world can shine like transfiguration. You don't have to bring a thing to it except a little willingness to see. Only, who has the courage to see it?
For Reverend Ames, everything is a sacrament with intimations of holiness. And the Divine Being he has served and conversed with for decades is still a mystery.
Peter's suggestion at the transfiguration that they build three dwellings to commemorate the event is not as random as it first seems. It is a typically human reaction to the transcendent or miraculous to try to tame it, to nail it down, organize it, put walls around it, and either sell tickets or write up a doctrinal statement and confession of faith. Better, as the voice from heaven says, to stop, look, and listen.
In an episode in the current season of the "The Chosen," Mary Magdalene and Matthew have a brief but profound conversation about the completely unexpected and apparently random circumstances that led each of them individually to meet Jesus. Matthew is a guy who wants to figure everything out; Mary observes that perhaps the best thing to do is to step back and be in awe. "Our lives are often painful, yes, we think life is full of scarcity and not abundance," she says to Matthew. "But then there are those times that, out of nowhere, the world expresses its longing to be whole."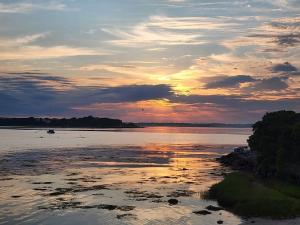 As Reverend Ames says, "You don't have to bring a thing to it except a little willingness to see. Only, who has the courage to see it?" Good question. It takes a lot more courage to embrace this world with all of its imperfections and disappointments as a spectacular and continuing divine miracle than to step back and bemoan the fact that it seldom is the miracle we would have performed if it were up to us.
It isn't up to us—the power and glory of our created, sacred world is far above our pay scale. It is particularly important to remember when things aren't working out the way any one of us would have planned. Sacredness and beauty, embedded in imperfect matter, are reminders that, according to the Christian narrative, this very strange yet compelling fusion of the divine and the imperfect is God's intention with us.