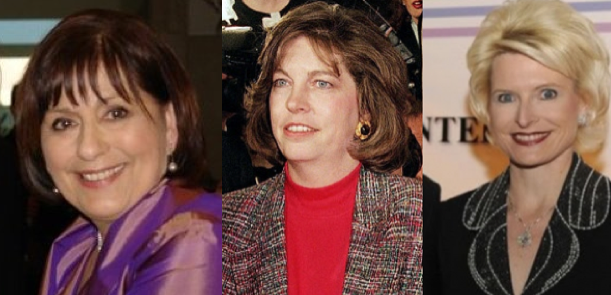 Joan Walsh has a great line:
The GOP presidential primary is a lot like a kindergarten t-ball game: When it comes to being in first place, just about everybody gets a turn. And now, congratulations, Newt Gingrich: It's your turn!
This means, of course, that the amiable professor now will now be freshly scrutinized in both his personal and his political life.  So far, he's not been considered a threat, so his liabilities have been overlooked by his rivals.  However, as he rises in the polls, his life is about to undergo the same treatment that Herman Cain and Rick Perry have experienced… and it's not going to be pretty.
First let's talk about the most obvious problem – his wives.  Nineteen year old Newt married 26 year old Jackie Battley, his former high school geometry teacher in 1962.  They had two children, but Newt had an affair with Marianne Ginther and left Jackie to wed Marianne one year later.  Then, in the mid-1990s, Gingrich met a staffer in the House of Representatives — Callista Bisek  — who is 23 years his junior. Newt married her shortly after his divorce from his second wife Ginther.  They are currently married, and Callista plays a front-and-center role in Newt's campaign.  (She has her own portion on Newt's website here, in a move that shows that Newt might be tone deaf on how much women voters want to see the trophy wife of a Presidential candidate supposedly running to protect family values.)
Of course, it's not just the fact that he's had — count 'em — three wives.  There's the infamous "hospital story," too.  Apparently, Newt visited  Jackie and demanded that she discuss terms of their divorce, while she was in the hospital recovering from an operation for uterine cancer.  (Read how this anecdote has come to define Newt in ways that do not promise to disappear if nominated for the GOP.)
Walsh writes:
Gingrich is probably best known for serving his wife with divorce papers while she was recovering from cancer surgery, so he could marry his mistress, whom he later divorced to marry a staffer. But he's also probably the only politician, who when you're asked "What's the worst thing he's done?" has done a lot of things that rival leaving his cancer-stricken wife for his mistress.
She details some of his strange positions and mistakes in "
Newt Gingrich: Even His Baggage Has Baggage
" where she points out that there's even more to the sexually sordid story.  When he was cheating on his second wife with his third, he did this while leading the drive to impeach Clinton over lying about adultery… "
when he was himself lying about adultery
."
He's asked for forgiveness.  This is not only an important, integral part of the story, it is the story… especially as it pertains to Newt's salvation. We have all benefited from divine mercy, and are thankful for a Savior who went to such great lengths to make forgiveness possible!
However, as wonderful and life-giving as forgiveness is, there are still real-world consequences to sin.  For example, voters might look at him with skepticism as he runs to combat the moral decay of our nation.  Voters might find his claims to protect traditional marriage a little hard to swallow.  They might also find it hard to trust his political promises, considering how easily he broke his personal promises.
I've heard many evangelicals mention Newt as a viable alternative to Gov. Romney, and I can't help but think that it would be quite ironic if social conservatives make a moral statement against the LDS candidate by rallying behind this thrice married lothario.