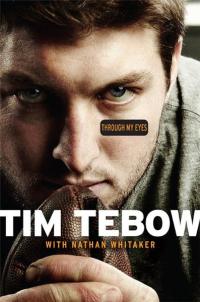 Welcome to our SixSeeds Summer Beach Read Giveaway!
We're giving away books of our SixSeeds team members — and you won't believe how many great authors we have on our Faith and Family Channel!
Ruth Malhotra loved "Through My Eyes," a memoir by Tim Tebow and SixSeeds team member Nathan Whitaker.
Her review stated:
The book, co-authored with SixSeeds' own Nathan Whitaker, is as much a bold motivational challenge as it is a candid personal memoir. Tebow's authentic style combined with the broad array of experiences he recounts will resonate with a wide range of readers. The 272-page book is a fast-paced easy-to-read account of the people, events, and encounters that have significantly impacted his 23 years of life. He vividly describes everything from his at-risk birth in the Philippines where his parents were missionaries, his homeschooled upbringing on a farm, his accomplishments in college and current role in the NFL, and the charity work that has become an integral part of his life. Through My Eyes debuted at No. 6 on the New York Times Best Seller list for hardcover nonfiction books, and it has remained in the top 10 on the list for eight weeks in a row.

Tension runs throughout the book, which is part of what makes it an exciting read – no matter how familiar you are with Tebow's story or the world of college football. Not only can readers relive some of his games, they can also feel the suspense of his college decision, experience the anxiety of the Heisman ceremony, and identify with his constant challenge of "becoming so intense and yet still staying in control enough to show good sportsmanship."

Anyone who watched Tim play at Florida witnessed how he constantly set high expectations and passionately pursued perfection in his athletic endeavors. Yet Tim is intensely competitive and has a relentless desire to dominate his opponents. From the time he was five years old playing T-ball to playing quarterback in high school to his college experiences to the NFL, it is clear Tim has always been both physically prepared to compete and emotionally invested in winning.

"If we weren't winning in perfect fashion, then we were very dissatisfied," Tebow writes of his final season at Florida. He repeatedly expresses frustration with the perceived laziness and entitlement mentality of others, while using his influential position to motivate them toward excellence. Through My Eyes offers a refreshing antidote to the expressions of weakness and passivity prevalent in today's Christian literature and family programming. It also defies many of the prevailing trends in parenting. In recent years, misguided efforts to "help kids feel good about themselves" and "avoid hurting anyone's feelings" have led to not keeping score in little league games, giving every child a trophy, and placing an unbalanced focus on self-esteem to the point where even constructive criticism is frowned upon. Tim makes the point that "Christians don't have to be weak" and that doing our best with our talents is actually more glorifying to God. The book will challenge parents to demand the best from their kids while investing the time and energy necessary to help them develop their gifts and achieve their potential.
BOOK GIVEAWAY Leave a comment for a chance to win Through My Eyes!
On July 20th, we will pick a name in a random drawing from all eligible entries received and send you an email notification.  Limit one (1) entry per person; NO PURCHASE NECESSARY TO ENTER OR WIN. Open only to legal residents of the 50 United States and Washington D.C. who are 18 or older as of date of entry.