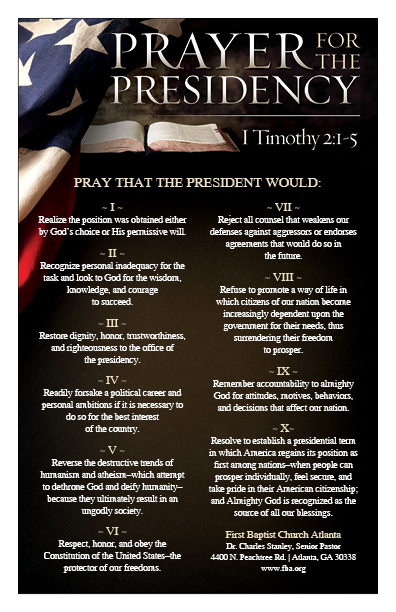 How can you pray for the presidency during these challenging times? Dr. Charles Stanley of First Baptist Church Atlanta and In Touch Ministries shares 10 ways Christians should pray for the President.
Pray that the President would:
Realize the position was obtained either by God's choice or His permissive will.
Recognize personal inadequacy for the task and look to God for the wisdom, knowledge, and courage to succeed.
Restore dignity, honor, trustworthiness, and righteousness to the office of the presidency.
Readily forsake a political career and personal ambitions if it is necessary to do so for the best interest of the country.
Reverse the destructive trends of humanism and atheism—which attempt to dethrone God and deify humanity—because they ultimately result in an ungodly society.
Respect, honor, and obey the Constitution of the United States—the protector of our freedoms.
Reject all counsel that weakens our defenses against aggressors or endorses agreements that would do so in the future.
Refuse to promote a way of life in which citizens of our nation become increasingly dependent upon the government for their needs, thus surrendering their freedom to prosper.
Remember accountability to almighty God for attitudes, motives, behaviors, and decisions that affect our nation.
Resolve to establish a presidential term in which America regains its position as first among nations—when people can prosper individually, feel secure, and take pride in their American citizenship; and Almighty God is recognized as the source of all our blessings.