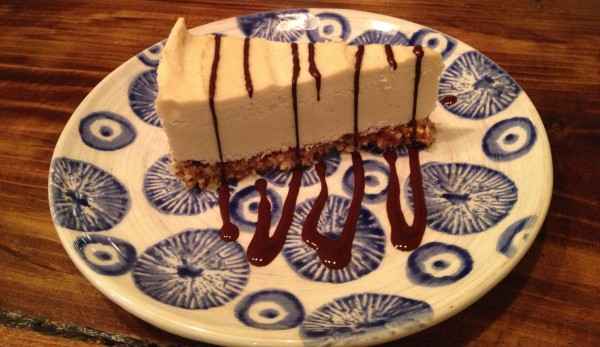 As Christmas approached, I asked for suggestions for Paleo desserts on Facebook.  When a friend suggested a recipe on "Corkboard Inspirations," I tried it out and am presenting it with my tweaks below!
First, this dessert looks just like cheesecake, which is good and bad.  It makes for a great presentation, but it might be disappointing if a guest bites into it expecting cheesecake.  (Sort of like the cognitive dissonance that happens when you take a big gulp of water only to discover it's Sprite.)  This dessert is rich and amazing, but it's a different texture and flavor than cheesecake. The recipe below is for a 9 inch springform pan.  You can adjust according to your pan size.
1: Soak 5 cups of raw, unsalted cashews in water overnight.  Please don't skip this step, because softening the nuts is a necessary first step to the blending process.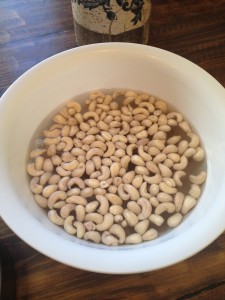 2.  Go to sleep.
3.  The next day, get up and ponder why some of the cashews float while others do not.  Then, gather these ingredients for the crust:
1 cup pitted dates
1 cup pecans
1 cup (or just under) flaked coconut
Place all your crust ingredients in a blender and pulse until they are breadcrumb consistency.  You should be able to press this mixture between your fingers, and it will maintain its shape. Press to the bottom of your pan only — don't try to make the crust go up the sides.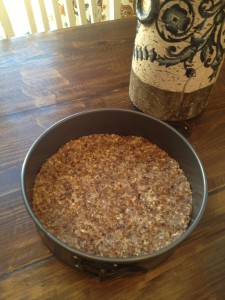 4.  Now you are ready to make your filling!  Gather
5 cups cashews previously soaked through the night
1 cup coconut oil (melted to oil consistency by sitting jar in a warm bath)
1 cup agave nectar
2/3 cup lemon juice
2 teaspoon vanilla extract
Blend all of the ingredients in a blender until the mixture is very creamy.   You'll need to possibly blend, stir, and blend some more.  (I initially used the "chop" function on my blender.)  This filling needs to be super creamy without any chunks at all.  Don't rush this step. Rather take your time and make sure it's as creamy as possible.  This is what mine looked like when I stopped blending.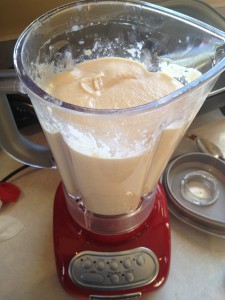 5.  Spoon all of your mixture into your springform pan on top of your newly made crust.
6.  Cover and place in the freezer overnight.  (I made mine this morning at 11 and ate it tonight at 7:30.  I couldn't wait!)
7.  Prior to serving, let thaw about 30 minutes at room temperature.
8.  Cut into pieces and "plate" them.
9. I melted Green & Black's 85% dark chocolate in a double boiler.  (Actually, I don't have a double boiler, so I stuck a large metal bowl over boiling water and let the heat melt half of a chocolate gradually.)  This is intensely dark chocolate, by the way.  If you're not into the dark chocolate flavor, you could choose raspberries or strawberries as a topping.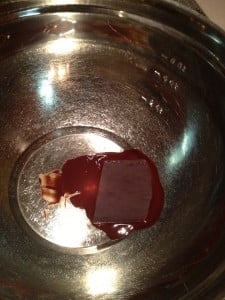 10.  Then, I placed the melted chocolate into a Ziplock sandwich bag and drizzled the chocolate over each slice of cake.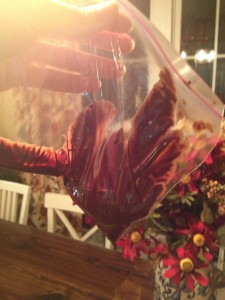 That's it!  Now you are ready to serve — and eat! — your rich, delicious Paleo dessert. My daughter and I were discussing what exactly to call this cake to avoid the whole water/Sprite phenomenon, and decided on " Coconut Cashew Cake."
If you try this recipe, let me know how you and your (Paleo and nonPaleo) guests liked it!