"Parks and Recreation" star Rashida Jones has had it.
After all, several high-profile celebrities, um, "overshared" in social media and on stage. Recently, Miley Cyrus got naked in her "Wrecking Ball" video; Kim Kardashian took a selfie in a skimpy swimsuit; and Nicki Minaj wore leopard star-shaped pasties, gold chains and a fish expression on her face.
After all of this, Ms. Jones tweeted out a sarcastic note: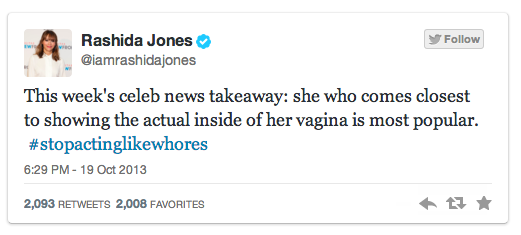 Of course, she didn't call out anyone in particular, nor did she say they were whores. She simply was lamenting Hollywood starlets' immodesty.
Twitterverse reacted.
See what they said here on my new article on Rare.