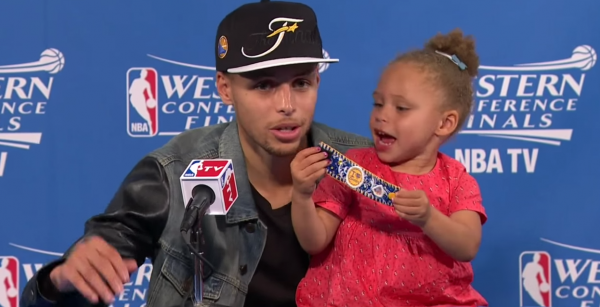 When Stephen Curry brought his daughter to the post-game media interviews, some sports writers decried his lack of professionalism. ESPN's Brian Windhorst said, "As a member of the media who wants to ask the players about the game in a business setting, it is counterproductive and it sometimes takes away from being able to ask questions."  Skip Bayless said Curry needed to "preserve the sanctity" of the interview process so that the reporters can get "very important quotes."
Writer Steve Almond, however, loved the little girl's presence:
… what clearly emerges if you watch the press conferences is how incredibly attuned Curry is to his daughter. He's patient and loving without being indulgent. He pulls her onto his lap when she needs it, and lets her roam when she can't contain herself. He gives her positive attention when called for, but doesn't allow her to stop him from answering the questions he needs to answer. As the father of three, including a toddler, I was blown away by his skills.

Yes, sure, it's only a brief clip. But Curry struck me as a fine example for those of us who struggle daily to balance our desire to be with our children (and share our world with them) against the need to, you know, get adult shit done.
Almond goes on to write:
matters in Stephen Curry's life isn't feeding reporters a bunch of stale quotes for them to regurgitate to fans like me. What matters is that he's a father who cherishes his daughter and who (after a long night at work) wanted to spend time with her, even if that meant exposing her to the absurd mock gravitas of a post-game media scrum. The ultimate message Curry was sending is that parenting—unlike being a sports hero—isn't a performance. It's a full-time job. After all, Curry could have easily hired a nanny. Or asked his wife to take Riley while he took questions. But it's clear that Riley (as a natural extrovert) wanted to be with her dad. In this sense, what Curry did, in a small but vital way, was to take parenting out of the shadows.
… what really and truly 
I, for one, love seeing a dad who is actually taking care of his daughter in such a public way, especially when so many of our so-celebrated athletes create a lot of children without really fathering them… It's fun to see Stephen Curry gaining fans — on and off the court.