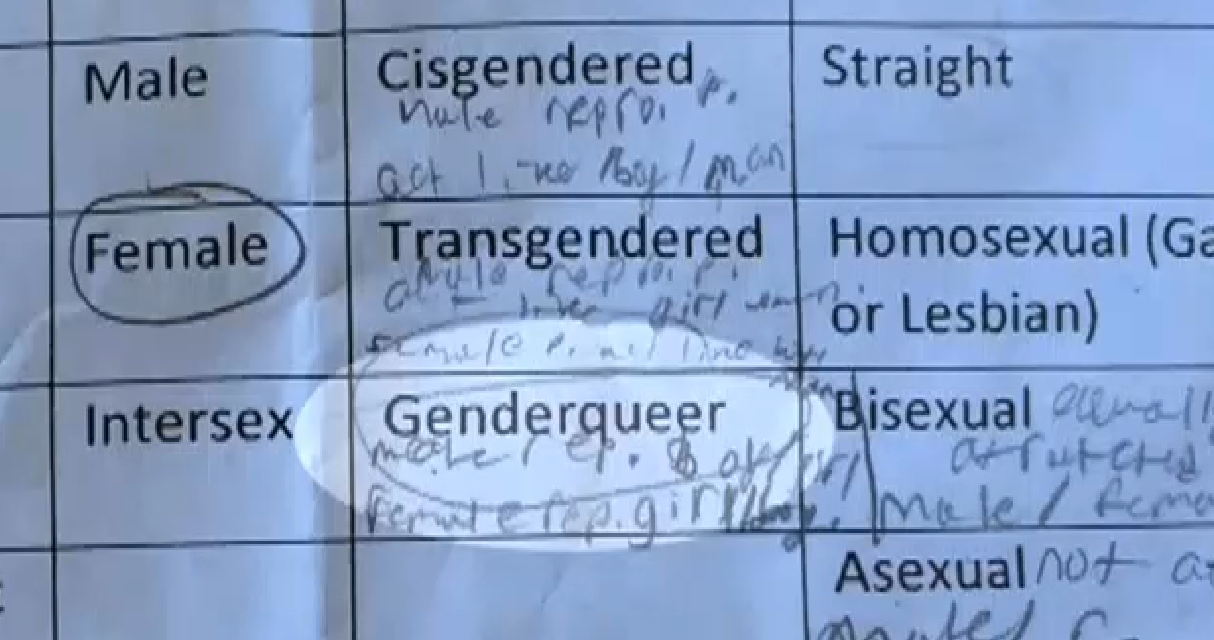 Reading, 'riting, 'rithmetic…  oh, and and sexuality.
Twelve year old students in Tampa were asked whether they were mentally disabled, asexual, genderqueer, or cisgendered.  Apparently, the teacher — the Spanish language teacher, I might add — was trying to get them to think about whether they were "privileged" and — if so — the level of that privilege.
After the forms were passed out, the students were left scratching their heads.  What is "cisgendered" versus "genderqueer?"  The answer is presumably out of the purview of a middle school Spanish class.
Parents voiced concerned to the principal:
Live5News.com | Charleston, SC | News, Weather, Sports
Apparently, the form asked about the students' religion as well.  They report:
Other sections included religion and gender where kids were asked to circle Cisgender, Transgender or GenderQueer.

Stile said her daughter did not know what some of the terms meant.

"She's 12. some of these things should be taught at home," Stile said.

After Stile, along with several other angry parents, questioned the principal, he launched an investigation.

A school district spokesperson said the handout was not a district form.

"This is not a district form, this is a teacher generated form and it was without principal consent and at the district level we do not collect that information," Hillsborough County Schools spokesperson Tanya Arja said.

The students were not required to turn in the forms. The teacher said the goal was to teach them about diversity and inequality.

"To me that has nothing to do with Spanish," Stile said. "You're here to teach my daughter Spanish, not anything else."
Welcome to the brave new world of political correctness, where teachers don't care if your children learn anything BUT political correctness.