Charlie Peacock is one of those rare musicians who's relevance has only increased over the past few decades.  Billboard's Encyclopedia of Record Producers named him "one the 500 most important producers in music history, and for a good reason: he's played a role in the careers of hit-making artists such as Amy Grant, Switchfoot, and The Civil Wars. In fact, Charlie earned Grammys for Best Folk Album and Country Duo Performance (twice) thanks to his work with the Civil Wars."
That's why I immediately jumped over to iTunes to buy his new single after seeing this tweet:
So happy to announce I have new single out today! First new vocal music in 4 years!! Click her to purchase: https://t.co/qsNsVzDNQX

— Charlie Peacock (@charliepeacock) May 14, 2016
(You can buy yours here.  Go ahead.  I'll wait.  You'll want to listen to it before reading about it!)  After I listened to it — three times — I was left full of questions about what I'd just heard.  Charlie was kind enough to grant an interview, which I've included below for all of you Peacock fans.
Exclusive Interview with Charlie Peacock:
FRENCH: Your new single is very… surprising. There's a swindling, a kidnapping of some sort, and a death. Oh, and a loan. How did you come up with this story?
PEACOCK: It's pure imagination but inspired by the West, later 1800s that is – in the great scattering of settlers of these United States. I imagine it happening in Sacramento or St. Louis. C.S. Lewis called the imagination the organ of meaning. I suppose it often is.
FRENCH: I had to listen to it a few times, because the lyrics are so surprising that I wasn't able to really comprehend what was happening. Can you tell us the basic plot of the song? 
PEACOCK: Swindler from Bombay takes young British woman captive through some false pretense. Gradually she comes to understand her very scary predicament. He begins to twist her into his schemes, including a scam presented to a fairly well-to-do pioneer patriarch and family. She finds herself in the dining room of the patriarch's home surrounded by his family while the Indian swindler offers up his opportunity. This is but one, in now a long line of breaking trust and injustice. She will be a victim no longer. As he's scheming, she grabs a butter knife and with great strength slits his throat and let's him bleed out right there before the meal that had been presented. She doesn't skip a beat. Somehow she is calm and able to think of saving herself, asking for mercy, and redefining the offer of the swindler into an offer of mutual benefit. A child of the patriarch narrates all of this for us. The father, having endured far more than this to pioneer our rough and tumble country is not shaken. Instead he prays and devises a plan of compromise. In a split second he has discerned the young British woman as trustworthy. Nevertheless, he warns her that if she isn't, then she better be far, far away when he arrives to collect. There are consequences to deception and untrustworthiness. In the same way that the Indian man's life took a turn for the worse, so could her's. But, if she were honorable and honest, as he was prepared to be with her, then she could count on his support and life would be furthered.
FRENCH: Why did you name a song about, among other things, murder? "That's the Way They Came to Us?"
PEACOCK: I think the point of the "we didn't try to change them" was that you didn't have time then – this is when people made very quick life or death decisions in the blink of an eye – no egalitarian corporate group-think, no focus groups, just you and your gut and for many, trust in God for immediate, micro-second guidance.
FRENCH:  I honestly thought "we didn't try to change them" was a gentle rebuke against xenophobia… until she slit his throat. 
PEACOCK: That's in there, too.
FRENCH: You mentioned this song was about having the mind of a child in a treacherous world – can you elaborate on that?
PEACOCK: The narrator is a young adult recalling a story of childhood – a story of no neutrality making the child one kind of person in the world and not another.
FRENCH:
You also said that Malcolm Gladwell's best selling book "Blink" inspired this song at least in a small way. What is that about?
PEACOCK: Very Michael Polanyi too, tacit knowledge and all that knowing more than you can tell. Split second knowings empowered to shift time, place and person. A blink to die, a blink to live. You know, that kind of stuff.
FRENCH: Can you tell us about the album cover?
PEACOCK: Sure this is a public domain piece in the Yale University art collection titled Mlle. Kashouha and the artist is Robert Winthrop Chanler, American, 1872 – 1930. Lovely isn't it?
FRENCH: The music, if you aren't paying attention to the words, seems happy which makes the lyrics all the more dissonant when they begin to register. Was that an intentional juxtaposition, or do you not think the music sounds "happy" to you?
I don't see it happy as much as purposeful and positive in light of the narrator's life as a survivor of things not too terrible to tell.
FRENCH: When you write a song, what is the best compliment a person can give you after hearing it?
PEACOCK: "I've never heard anything like that. May I hear it again?"
FRENCH: According to a tweet of yours, this is your first vocal music in four years. What sorts of projects have you been doing and how else can we engage in your music?
My last commercial recording was LEMONADE an album of solo piano improvisations – what some fans refer to as their Sunday morning music. Songs include House of Study (Bet Midrash), Like Monet's Table, and Viola in the Garden of Words. (For Amazon click here and for iTunes click here.) In 2012 I put out a vocal album titled No Man's Land that I'm very happy with and so I recommend that too at Amazon or iTunes.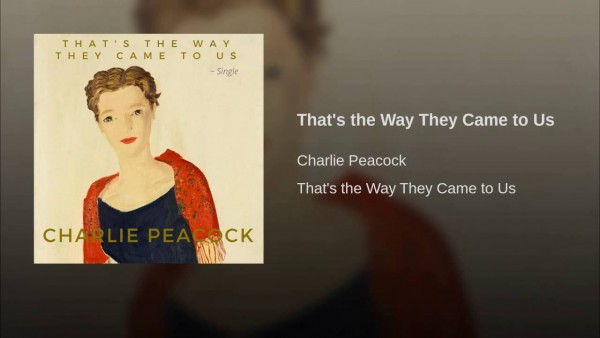 Read more about Charlie Peacock:
"A mainstay of the Nashville music scene Charlie Peacock is one of the most prolific cultural influencers to come out of Nashville." – Brite Revolution
Nashvillian Charlie Peacock, multi-genre, Grammy Award-winning record producer, reached #4 on the Billboard Jazz Chart with LEMONADE, his collection of twelve solo piano improvisations. It's no stretch that the producer behind improvisational jazz is also that of Folk/Americana darlings The Civil Wars, The Lone Bellow and Holly Williams. For Peacock, it's all one soulful musical world. The producer did in fact produce three of Entertainment Weekly's Ten Best Country Albums of 2013. All of this diversity explains why Electronic Musician wrote: "Charlie Peacock's life is like a game of musical chairs: he is constantly changing seats and trading places."
Charlie Peacock's production of The Civil Wars' Barton Hollow garnered two Grammy Awards in 2011 and was Gold certified. The eponymously titled The Civil Wars (2013) debuted at #1 on the Billboard Pop Chart, has sold over 300,000 copies and won the Grammy for Country Duo Performance.
Peacock's recent production credits include Joy Williams, Kris Allen, Lenachka, Ben Rector, Brett Dennen, Jon Foreman and "Misery Chain" for Soundgarden frontman Chris Cornell featuring Joy Williams, from the soundtrack to the film, 12 Years A Slave. Peacock is also the co-composer/producer of the title theme for the AMC Revolutionary War drama, TURN: Washington's Spies. His upcoming releases for 2016 include the instrumental trio Chessboxer and debut artist, Angelica Garcia (Warner Bros.).
In addition to his music production work, Peacock is of course, Artist-In-Residence and Director of Contemporary Music and Industry Outreach, College of Entertainment and the Arts, Lipscomb University.