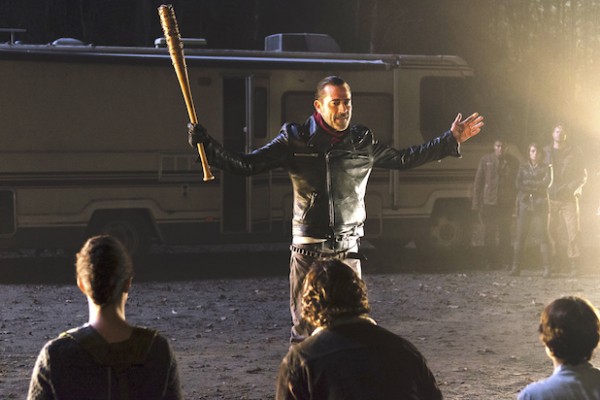 Have you noticed that just about everything is racist now?  The Wrap reports that the latest horribly offensive thing is a tee shirt advertising The Walking Dead:
A "Walking Dead" T-shirt has been removed for sale by a British clothing retailer, after a complaint that the shirt was "racist" and "fantastically offensive."

The shirt in question bore the image of a baseball bat and the message "Eeny Meeny Miny Moe" — a reference to a scene from the AMC zombie drama in which Negan (Jeffrey Dean Morgan) is deciding who in the protagonist group to kill.
In the scene, which happened to be the last one I had the stomach to watch, Negan continues by saying, "Catch a tiger by his toe." However, apparently in some places, people used to use the N-word instead of "tiger."   One shopper, according to The Wrap, complained:
"We were shocked when we came face to face with a new t-shirt with a racially explicit graphic and text," Lucraft told the Warwick Courier. "It was fantastically offensive and I can only assume that no one in the process of ordering it knew what they were doing or were aware of its subliminal messages."
Isn't it weird that someone would be more offended by a child's poem about a selection process than by the shirt's reference to a man who is randomly choosing a person to murder?  The store:
"The T-shirt in question is licensed merchandise for the U.S. television series, The Walking Dead, and the quote and image are taken directly from the show. Any offense caused by its design was wholly unintentional and Primark sincerely apologizes for this."
The actor who plays Negan was not impressed by stores' decision to yank the shirt:
Holy crap people are stupid. 'Walking Dead' Shirt Pulled From Stores After Complaint of Racism https://t.co/cpeIqcxTwJ

— Jeffrey Dean Morgan (@JDMorgan) February 22, 2017
Negan is apparently not impressed by hypersensitivity to political correctness.  But that's the only thing I like about the guy… and it's not enough to make me turn that show back on.