It would take many football fields to house everything written about the theology of sin. At the risk of outing myself as a heretic, I will admit that I wonder if the concept of sin is all that useful.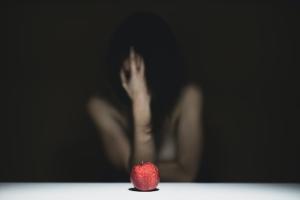 Today's gospel reading for the first Sunday in Lent focuses on Jesus' 40 days in the desert, withstanding temptation in preparation for his public ministry. It's no accident that the first reading that prefaces it today harkens back to the temptation of Adam and Eve in the Garden of Eden. But it's not just because "temptation" is a common theme.
There's much more to it. The first reading tells a story about the genesis of sin, and the gospel reading tells a story about Jesus getting ready to set out on his mission to redeem the world from that sin.
I can't believe in anything that doesn't align with established science and my own lived experience, so I don't think either story is historically accurate. However, that doesn't mean that they both don't share essential truths.
Pain and Suffering
Why is there suffering in the world? The writers of the book of Genesis, who penned their thoughts sometime between the 15th and 13th centuries BCE, must have struggled to answer this question just like the very first humans a couple of million years before them and each of us in the 21st century CE today. I believe that the story of the Garden of Eden was an attempt by the writer of Genesis to propose an answer.
Today, we know why the sun appears to rise and fall each day, present in the morning and absent at night. But ancient peoples didn't have the scientific means to arrive at such an understanding, so they had to create plausible explanations based on their knowledge. They understood how the driver of a chariot could get from point A to point B, so it only made sense that a god with supernatural powers drove the sun by chariot across the sky every 24 hours.
Similarly, the writers of the Hebrew Scriptures had to come up with a plausible explanation for the presence of suffering in a world created by a good and loving God. Indeed, we humans must have screwed things up. Like the sun's daily chariot ride across the sky, believing that human pain is punishment for bad behavior provides an easy, uncomplicated explanation.
So, we called the lousy behavior of Adam and Even "sin" and concluded that we must also be guilty since pain is a part of our lives.
Enter Jesus of Nazareth.
His life and teachings, his relationships and ministry all turned everything upside down. The revolutionary act of making love the center of everything led people to a freedom they had not previously enjoyed or even thought possible. It was as though death was not the end of the story, only a transition point along the way. It felt like starting over, like being reborn.
We had to have a way to talk about it, a plausible explanation of how the freedom and expansiveness of this new way of living would make sense in a universe in which our pain was caused by sin. So, we came up with what came to be known as the "substitutionary atonement theory," that Jesus came to save us by accepting the painful punishment for sin himself through death on the cross. He took the bullet for us.
I'm not a fan of the atonement theory. It doesn't jive with my sense of a God who loves extravagantly and IS that very love itself. I just can't go there.
Where I do end up, though, is in a belief that "salvation" is less about being rescued from sin and more about recognizing the truth that sin and its punishment were never my destiny in the first place. Talk about some seriously good news!
Six of One, Half-Dozen of the Other
Does it really matter if I talk about the sun's journey across the sky in a god-driven chariot or with the earth's eastward spin? Both get me to the same place, and the sun still warms my skin and nurtures the plants regardless of how I talk about its movement or lack thereof.
Does it really matter if I talk about the experience of Jesus as salvation from sin or of recognizing that sin never had the upper hand in the first place? Isn't rebirth joyful regardless of how we describe it?
I guess that's my surprising suggestion about sin. It comes up short on substance.