Many of us will be glued to our TVs or smartphones this month, watching the NCAA men's basketball tournament. But there's another kind of March Madness afoot. Pope Francis will celebrate the tenth anniversary of his papal inauguration on March 13.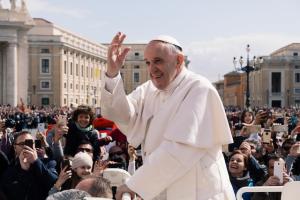 Let's say that Pope Francis' "season" is his first decade in the role, and he's going into the "tournament," which is the remainder of his tenure. At age 86, it's not likely he'll have a third decade. Since his legacy will be solidified in the coming years, it's fair to say – in the words of Dick Vitale – that for Jorge Mario Bergoglio, it's "tournament time, baby!"
According to BracketResearch.com, there are five traits that the winning NCAA tournament teams share. Over the next five posts, we'll examine how Pope Francis stacks up on each one!
Pope Francis' Conference Affiliation
The first trait of a winning team is conference affiliation. All but one victorious team since 1991 came from one of the "power" conferences:  ACC, Big 12, Big East, Big Ten, PAC 12, and SEC. It is unclear whether this is because of their strenuous regular season schedule or deep pockets. Regardless, the conference a team comes from is a significant factor in March Madness success.
So, what "conference" did Pope Francis come from? The Jesuits! Founded by St. Ignatius Loyola in 1540, the Society of Jesus is a religious order known for expertise in education, mission work, scholarship, and publishing.
Other religious orders during the Middle Ages emphasized a balance between charitable action and quiet time in prayer, but the Jesuits leaned heavily on the side of working with the poor and vulnerable. Many orders had prescribed times during the day for prayer, but the Jesuits followed no such schedule. While some orders were cloistered or at least lived outside the urban center, the Jesuits stressed the importance of living among the people they served.
Their mission is to help people "seek God in all things," especially the poor, and they have a solid commitment to human rights and social justice. Interestingly, Pope John Paul II and Benedict XVI had some run-ins with the Jesuits. They thought the order was too liberal, and the Vatican disciplined several Jesuits during their tenures.
Who You Are Is What You Do
Clearly, coming from the "Jesuit Conference" has influenced Francis' role as leader of the global Catholic Church. Within days of his inauguration, he made it clear that traditional Jesuit priorities would be his priorities as pope.
He is the only pope to take the name "Francis" in deference to St. Francis of Assisi's emphasis on poverty, simplicity, and care for all living things. During his first appearance on the papal balcony, he surprised the faithful by wearing a simple white cassock and black shoes rather than the lavish red cape and red shoes like Benedict XVI before him.
Also, his statements about the need to care for refugees, protect workers' rights, welcome LGBTQ+ individuals, work for environmental justice, and take action against unchecked global capitalism based on greed all demonstrate that social justice is a major priority for him.
Pope Francis and Strength of Conference
Going into the "tournament" portion of his papacy, it appears that Francis' heritage will remain intricately tied to his destiny. But can we know for sure if that is a good thing? What will happen as Francis' Jesuit-inspired commitment to social justice continues to clash with those in the Church who see his efforts as a direct contradiction to long-established Church teachings? After all, Jesus was a great champion of social justice, and look what happened to him!
The final years of Francis' papacy should give us some insight into the future of a Church at war with itself. This ancient faith is at a crossroads. It's tournament time, baby!